Thriving in Favelas: Penny Appeal Empowers Women's Businesses in Brazil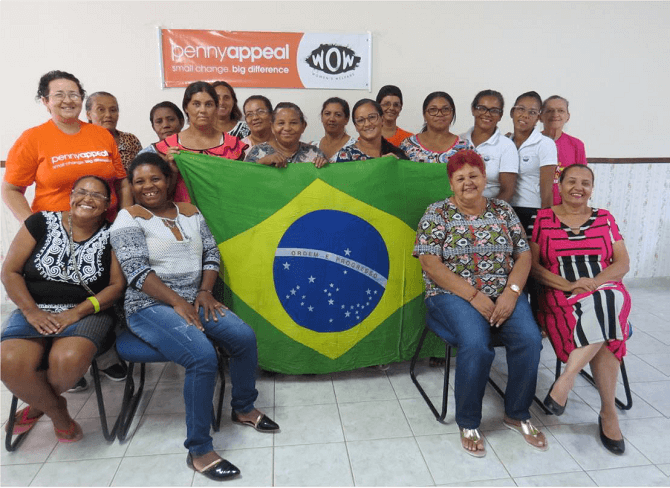 Small businesses have a huge role to play in breaking individuals and entire communities out of poverty. Penny Appeal have been helping lead the way by empowering female entrepreneurs in Brazil to dream bigger and expand their small businesses in ways that will make a long-lasting, meaningful difference.
The economic empowerment of women has become a central focus of international development organisations around the world in recent years. The United Nations' Sustainable Development Goals places 'Achieve gender equality and empower all women and girls' as Goal number 5 – showing that reaching gender equality is essential for communities and nations everywhere.
When more women work, and are able to sustain their own independent livelihoods, the poverty level in the local community is proven to fall, paving the way for the improvement of local services, children's education and more. Simply put, the economic empowerment of women is one of the tried and tested ways to break the poverty cycle for good.
Through our Women's Welfare (WOW) appeal, Penny Appeal has been building programmes to achieve gender equality and empower women and girls, all over the world. Our work has shown us first-hand how supporting the rights and empowerment of women and girls benefits not only the women themselves, but their families, communities and even their countries at large.
Our work in this field recently took us to Brazil - a country we have not previously worked in, and one very different from the world we are used to - but one with huge potential in terms obudding female entrepreneurs in agricultural and favela communities, each in need of assistance in order to maintain sustainable livelihoods and achieve economic empowerment
Our efforts were focused on the state of Paraíba in the Northeast. Paraíba is ranked the fifth lowest on the Human Development Index out of the 27 Brazilian states, with over 1 million of its 3.8 million inhabitants living in poverty.

Our WOW intervention in Paraíba is geared towards productive groups and co-operatives of women. Among them there are women who gather and sell shellfish, women from traditional Quilombo communities, and women living on the peripheries of towns and cities (favelas).
Each has experience of selling their products in their communities. Penny Appeal's teams have been working to help these women to improve their business management, their marketing, and the quality of their products, which will all contribute towards the building of sustainable and lasting livelihoods. In this way, the women themselves can remain in control of their own economic development.

All of the groups involved have been doing business for varying amounts of time; some have been working for years, while others began trading recently. However, they all needed support in accessing new markets, acquiring equipment and materials, and developing marketing strategies.
Each group is being supported by Penny Appeal in the following areas:
The provision of free equipment and materials, based on their own requests and assessments by the project leaders (for example tools, machinery, electrical appliances and materials)

Training on business management, sales & adding value to products, marketing, logo design and visibility of products.

Support in the development of their strategic planning

Support with legal issues, registration of businesses, and any problems in obtaining Brazil's Agencia Nacional de Vigilancia Sanitaria (ANVISA) certification, which will allow them to access larger markets.
What is a Favela?
Favelas are Brazilian slums which are located on the outskirts of cities like Rio de Janeiro, often made up of a combination of social housing and "shanties" made of local materials. Favelas were formed mostly by the great waves of people moving from the countryside to the cities in Brazil from the 1940s-70s, seeking a better life. However, with properties rising in price in these cities, many of these economic migrants had no choice but to become squatters in the poverty-filled favelas on the outskirts of the cities where they sought their fortunes.
Clean Living with Casa Lilás
One group working in a favela is Casa Lilás, which is made up of seven women living in state-owned social housing on the outskirts of the city of João Pessoa. This favela has high rates of violence, marked primarily by fights between two large criminal gangs who are vying for control. The government housing was built far from any public transport, medical services or schools, limiting economic flourishing; sadly, many people feel they have no choice but to turn to crime.
The Casa Lilás group produces soaps, detergents and handicrafts, as well as natural medicines, which they sell within their community. However, tapping into a larger market in the city will allow the business to truly flourish. Penny Appeal's support through the WOW project is allowing them to receive training, supplies, strategic advice, planning sessions, marketing tools and more, in order to grow their enterprise and take better control of their own lives.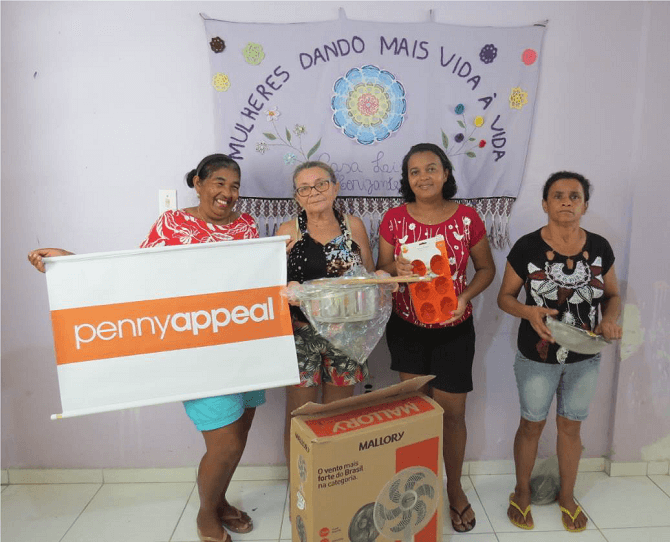 Casa Lilás women's group, João Pessoa
Baking bread, making hope
The agricultural settlement Gurugi II, in the municipality of Conde, is home to 78 families of African descent. From among them, the group 'Negras do Campo' have emerged as a promising new start-up: made up of 10 women with inspiring entrepreneurial spirits, the group make cakes and bread from locally sourced raw materials, and sell the products to their community. Two years ago they built a kitchen and a community centre with a large loan, and have had to work many days for free in order to ensure their debt is paid. Now that the loan is almost paid off, the women are ready for the next chapter of their business - when they can start receiving income from the project activities. Penny Appeal's help has now ensured that they have up-to-date equipment and materials, and support with marketing, strategic planning and implementation, in order to ensure that the next phase of their business brings prosperity for their selves and their wider community.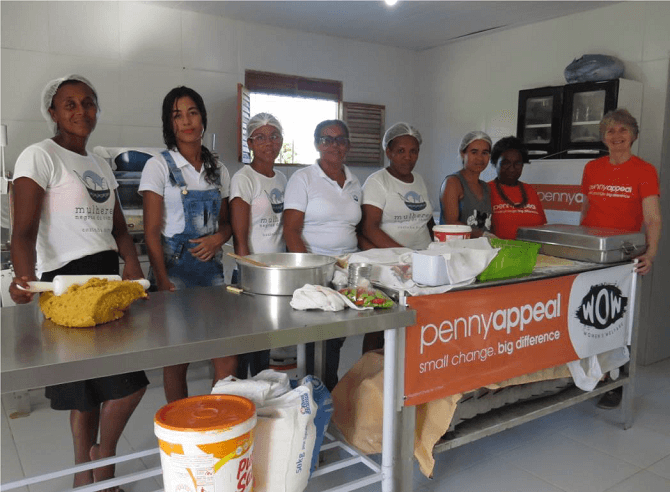 Negras do Campo women's group, Gurugi II settlement
What is a Quilombo Community?
Quilombo communities are settlements in Brazil that were originally founded by escaped slaves of African origin. The transatlantic slave trade was prominent in Brazil from its sugar boom period (1579-1670) through until the mid-nineteenth century. The slaves were subject to brutal living conditions and abject cruelty. Those who managed to escape from the plantations often formed settlement communities, many of which survive to this day through their ancestors.
Celebrating Culture with Traditional Tours
The Quilombo community at Ipiranga, also located within the municipality of Conde, was founded 200 years ago by two women who escaped from slavery. A women's group from this community have begun organising tours of their settlement, which include cultural events, traditional afro dances, visits to a small museum, and the sale of handicrafts and other local products. This venture has enabled the women to not only begin gathering a small income on their own terms, but also to share and celebrate the culture of their community and ancestors. With Penny Appeal's support, these women are starting to expand their tourism income and the sales of their products by reaching a larger customer base, bringing economic empowerment to their community on a larger scale.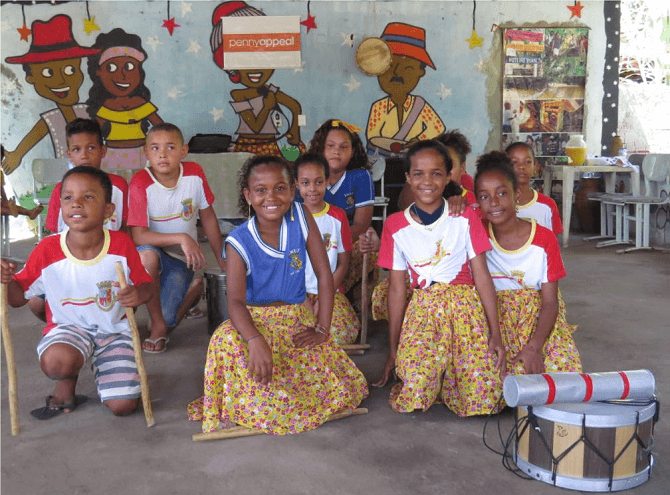 Traditional African dance from the Ipiranga Quilombo settlement
Crafting a better future: Maria's Story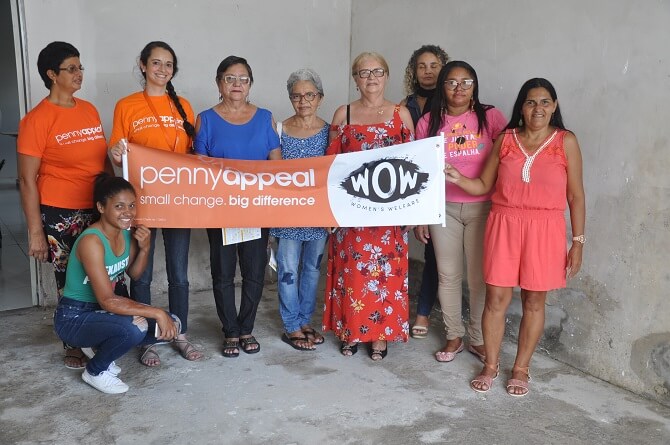 Maria José Matias Silva (second from right) with other participants of the project
Penny Appeal's work in Brazil allowed us to meet many remarkable women, from the resilient founders of Casa Lilás, to the passionate cultural advocates of the Quilombo community.
One of the women we met was 53-year-old Maria José Matias Silva; with a ready smile and a kind nature, Maria has a lot to give. However, poverty has been a constant in Maria's life. When she was a young woman in Paraíba, already married, she worked in the public slaughterhouse, cleaning the entrails of cattle, as well as doing other people's laundry and cleaning their houses in order to make sure that her family of 8 did not go hungry.
At that time they lived in a rented room with no electricity, running water or bathroom.
Today, Maria has her own house; a testament to her incredible work ethic, from the money she scrimped and saved to pay for it, to the work she put in as a bricklayer's assistant, actually laying the bricks that built her very own house.
Now, Maria has started her own small business, making and mending clothes for people with a group of other women. Penny Appeal trained them on how to embroider and sew, as well as properly finishing each of their garments. The training also supported the group to work on their designs and incorporate images and designs from their own culture and region, an idea which Maria has fully embraced in her work.
Maria told us, "My message to Penny Appeal is one of many, many thanks – please put 'many' twice, to make sure they know my gratitude is very strong!
Thank you for the help, for the donation, for everything that I have learnt so far, and that I will continue to learn. May God bless each and every one of the people who contributed by giving pennies so that this work to help others, to help women and their groups, can happen."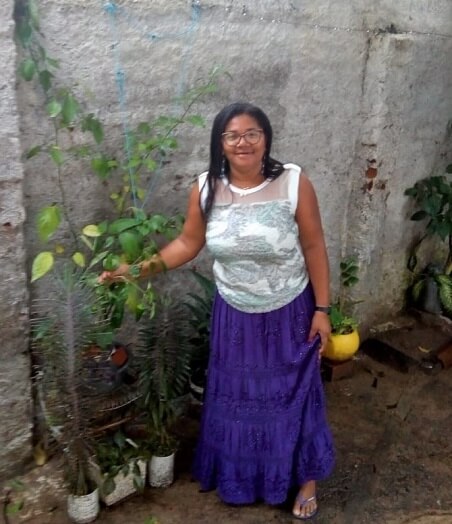 Maria showing us around her garden, where she often sews and embroiders her clothes.
Support Women's Welfare
When more women work, economies grow. But income generation and vocational training are just two of the ways that Penny Appeal has transformed the lives of women and girls around the world. Our Women's Welfare (WOW) programme also provides education for girls, women-friendly safe spaces for refugees, domestic violence support for survivors, and services to support women through pregnancy and childbirth. Click here to find out more about our work and how it has changed women's lives for the better.
Read more about our work empowering women around the world below:

Crafting a better future for Sri Lanka on Sewing Machine Day.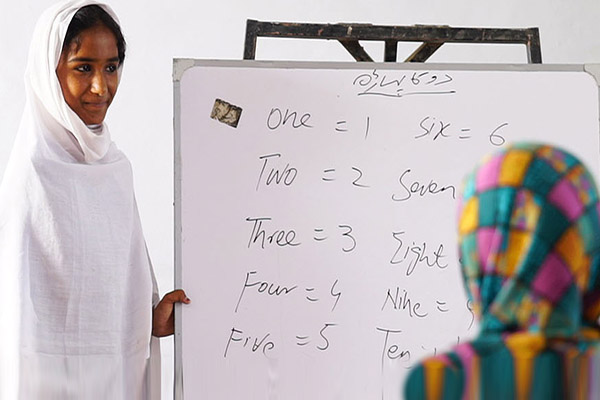 International Women's Day 2019