#TeamOrange bungee jumpers help Syria bounce back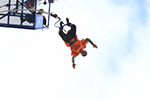 Daring members of #TeamOrange did a 160ft bungee jump at the weekend to help the people of Syria.

They raised thousands of pounds, which will go on to provide emergency food and medical aid for Syrian refugees in Lebanon.

"It was an amazing experience, with lots of people doing a bungee jump for the first time," said Khalil Benkhalil, Fundraising Officer.

"There were some nerves, but we got through it thanks to the beautiful London skyline, a few words of encouragement and knowing that we were doing it to help others."

The next big challenge for #TeamOrange will be an adrenaline-packed weekend in August – sign up now and we'll keep you updated.