Syria Crisis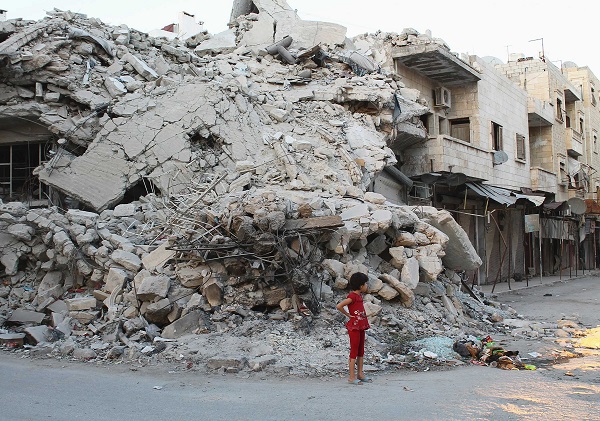 Seven years of conflict has left thousands of Syrian families in need of urgent aid
The roar of jet engines and the sound of air-raid sirens have replaced morning birdsong, as the seventh year of the Syrian Civil War rumbles on. Every Syrian family faces this reality, as they wake to the uncertainty of a new day in their homeland.
What started as a peaceful protest in Daraa, a southwestern city in Syria, quickly escalated to violence and civil war. The protests were inspired by the wider Arab Spring, which saw sweeping change throughout many Arab states. Syria is still in the grips of this kind of insurmountable uncertainty.
In a brutal conflict that has already claimed the lives of over 500 thousand people, with an estimated 2.5m causalities, Syria's war has been called the "biggest humanitarian and refugee crisis of our time", the words of the United Nations High Commissioner for Refugees, Filippo Grandi.
Indeed, the UN's latest figures estimate that 13.5 million people are in need of humanitarian aid with 7 million now considered refugees.
Ordinary Syrians consider themselves forgotten; around 4.6 million are now trapped in besieged or hard-to-reach areas, the focal points of military operations. These strategic points of interest are cities, such as Aleppo, Homs, Hama and Idlib.
Penny Appeal has been delivering life-saving aid to those in need, primarily in the environs surrounding Aleppo. Aid has been distributed in the Akhtarin district, 40 miles north of Aleppo, with food, clean water, shelter, warm clothing and medical care constituting the bulk of relief. Penny Appeal has also provided aid in nearby Azaz City, 20 miles northwest of Aleppo.
As well as serious humanitarian aid challenges, civilian areas are subject to daily airstrikes, cementing the feeling of absolute uncertainty amidst constant danger that many families face every day. Within these areas, civilians have no basic rights, their movement is profoundly restricted, they have little or no food and healthcare is increasingly rare.
Half of the population of Syria have been forced from their homes, with an estimated 50% of the refugees thought to be vulnerable children or young people. Neighbouring countries have now restricted the admission of fleeing refugees, creating deplorable conditions in camps littered up and down the Syrian border.
To add to their plight, Syrian civilians have been indiscriminately targeted with chemical weapon strikes by warplanes, the most recent incident (4th April) in the northern province of Idlib. Here, 70 people were killed by sarin gas.
The UN claims that the Syrian Crisis currently has a funding gap of $2.7bn, with millions of people lacking access to necessities such as shelter, clean water, food and healthcare. With no end in sight to the conflict, the people of Syria desperately need help.
Penny Appeal teams have been responding to this crisis on the ground, but as the situation continues to worsen, more aid is urgently needed.