Small Change, Big Difference: The Penny Appeal Story
Pre-order your copy of our book today!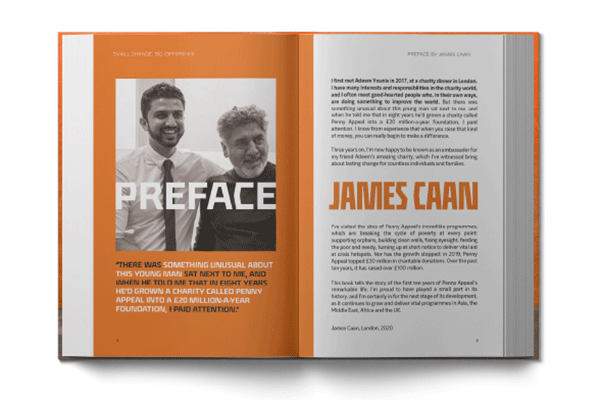 Immerse yourself in the inside story of Penny Appeal! From humble origins, we've grown into one of the most successful grassroots humanitarian charities in the UK and across the world. "Small Change, Big Difference: The Penny Appeal Story" gives an incredible insight into our past, present and future as told by our founder and trustee, Adeem Younis.
Order your copy now for the specially reduced price of £11.99 (RRP £16.99) and get exclusive bonus content too, including a free audio version of the book and exclusive VIP access to our launch events! With all proceeds from sales of the book going towards Penny Appeal projects, your purchase will not only inspire you but also help transform lives at home and abroad.

"From zero to £100 million in just ten years? I'm in!" – BBC 'Dragon's Den' star, James Caan CBE.

Struck by personal tragedy with the death of his father when he was just eight, "Small Change, Big Difference" follows Adeem's unlikely story, from growing up as an orphan in an impoverished West Yorkshire council estate, to becoming a dotcom millionaire and award-winning philanthropist.
Finding a role model in his resilient single parent mother, Adeem takes us behind the scenes, through the blood, sweat and tears that it took to beat the odds, disrupt the charity sector and prove how a pocket full of pennies really can transform the world.
More than a charity, Penny Appeal has become a global movement, founded in the heart of Yorkshire and reaching millions around the world. Many have seen our incredible accomplishments but the book highlights the hidden struggles away from the limelight and the obstacles that few people see.
"Penny Appeal has surpassed many milestones in our first ten years. We've changed the way that British Muslims think about charity. We've changed the way the entire charitable sector looks at fundraising. We've ignored the haters, we've refused to carry the ideological or cultural baggage that so many charities are weighed down by. We've marched to the beat of our own drum. All so that our donors and the people we support can be joined together in a mutually beneficial relationship. That's the way we change the world for the better. There's no time to waste. Not a second" Adeem Younis, Small Change, Big Difference"
Endorsed by James Caan CBE, one of Britain's most accomplished investors and proud Penny Appeal Ambassador, "Small Change, Big Difference" is a gripping and inspirational tale of the charity built by everyday people, making small and regular contributions to help make the world a better place. This story belongs to us all.
A Gift That Keeps Giving.
Pre-Order your copy at the pre-release price of £11.99 (RRP £16.99) and enjoy a range of exclusive bonus gifts. "Small Change, Big Difference'' is an enjoyable, motivational read that would make a great gift for readers young and old! All proceeds from book sales go towards supporting Penny Appeal's lifesaving work, be sure to purchase your copy today!