Run For Their Lives this October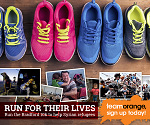 Our #TeamOrange volunteers are once again stepping up to help those in need. In fact, they'll be taking several thousand steps!
This October they will be embarking on a special Run For Their Lives challenge to raise money for Syrian refugees.
Fundraisers will be lacing up their running shoes to take part in one of two runs – a 10k in Bradford or a half marathon in Luton.
Pounding the streets is not just for professional athletes – even those with little running experience can get involved – but places are limited so sign up now!
The money raised will be used to provide those fleeing their homes with essentials such as food, shelter and medical supplies, and by raising £100 in sponsorship every runner will make a big difference.
If running isn't your thing then find out what else you can do to save lives as part of #TeamOrange – join us over on Facebook or register to join the family.