Rising From the Rubble
Recovery for the people of Beirut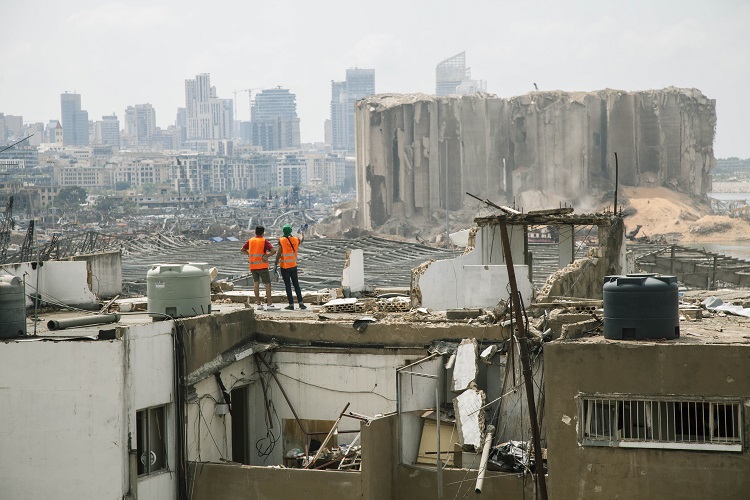 When the explosion in Beirut's port sent shock waves of destruction throughout the city on August 4th 2020, half the city was seriously damaged, over 200 people were killed, more than 6,000 were injured and 300,000 people found themselves out on the streets, homeless. Penny Appeal was there from the start with the help of our partners in Lebanon, providing emergency aid to individuals, hospitals and communities as a whole.
Our teams were able to deliver food, water, medical supplies, hygiene kits and other forms of relief to those who were most affected by this tragedy. We worked closely with the Medrar Foundation and Insan to bring thousands of ready-to-eat meals and hundreds of food packs and hygiene kits to struggling families, many of whom were made homeless in the blast, as well as deliver medical supplies to 5 hospitals run by the Palestinian Red Crescent Society.
While the rubble from the blast has settled in Beirut, the crisis is far from over. The Lebanese people still need our support as they begin to rebuild their lives and work towards healing their community. We are still working with our partners to bring the people of Beirut the supplies and support they need to carry on. Currently, we're distributing baby items, hygiene kits and more food packs throughout out the city and surrounding suburbs to help the victims of the blast keep themselves and their families' safe and well fed. Our current relief efforts also include a shelter programme that's helping provide temporary accommodation and home repairs to affected families, cash distributions that allow people to purchase the supplies they are most in need of and the provision of psychosocial support to help communities heal with the help of counselling and therapy.
Beirut is trying to rise from its rubble, but if its people are going to succeed then they need a helping hand from someone like you. Every penny donated towards our Lebanon Emergency appeal, helps people get back on their feet and rise to meet the road ahead of them; even a simple donation of £10 has a profound affect in these difficult times.
Bringing Hope to Beirut



Georgine has been a nurse for 20 years and has lived in Beirut all her life, but the explosion on August 4th has, by far, been the most horrific thing she has ever experienced. Like so many others, Georgine's fright from the initial blast soon turned into anxiety and fatigue, as she tried to cope with the aftermath of it all. Her home was damaged, her patients at the hospital have been traumatised and her family is shaken. When the explosion first took place, Georgine didn't know if help was coming but thanks to the generous hearts of our donors, Penny Appeal was able to be there for her in her time of need.
When the explosion took place, Georgine was working at the hospital. At first, she heard loud sound and ran to tell her friends, warning them that there might be an explosion in the area, but before she could get to them it happened. Everything fell – the ceiling, the walls, all the patients in the hospital were injured. To protect the patients, Georgine and other medical staff quickly carried patients down the stairs, stitching them up in the stairwell and doing everything they could to protect the vulnerable. Georgine was terrified for her patients and for her family at home.
At home, her family made it to safety but their house was severely damaged. The explosion ruined doors, floors, furniture, appliances and much more throughout the house. Georgine and her family now have to live in temporary accommodation because their home is uninhabitable. With winter on the way and so many repairs needing to be made to her home, Georgine wasn't she would be able to fix everything in time before the bitter cold set in, but Penny Appeal and our partners were there to help.
As part of our shelter programme, we will be making important repairs to Georgine's home and work to get her family moved back in before the winter months. Georgine and her family are so thankful for the help they've received, and the hope our emergency support has provided them with. She told us, "I am very grateful for you [Penny Appeal]. I really appreciate your caring. We hope we [Lebanese people] can help you if something happens."
In times of crisis, everyone needs a support network to help them cope with the trauma they've experienced and start rebuilding for a better life. Penny Appeal are there for the people of Beirut, and we sincerely hope that you are too. You can keep helping the Lebanese people in their efforts to rebuild their lives by supporting our Lebanon Emergency appeal and making a donation towards our emergency relief efforts. Together, we can transform lives in Beirut.