Red carpet event at Hackney Empire kicks off American Sharia tour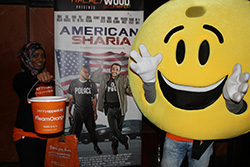 The UK premiere of Muslim comedy film American Sharia was a HUGE success, with enough money raised to build SIX orphan homes.
This means vulnerable orphans in Kashmir, Pakistan and The Gambia can get a safe, loving home with a dedicated foster mother, an education, clothing and healthcare. All this adds up to a brighter future.
Omar Regan, who wrote, directed and stars in the film, said: "It was so exciting to watch my film at its UK debut with the people of London.
"To be able to transform the lives of orphans around the world is just incredible and we've raised a lot of smiles whilst raising money."
Check out the pictures in ouAmerican Sharia photo album.
A very small number of tickets for some of our American Sharia screenings are still available – BOOK NOW.