A Q&A to Celebrate International Women's Day!
Women's Empowerment in Nepal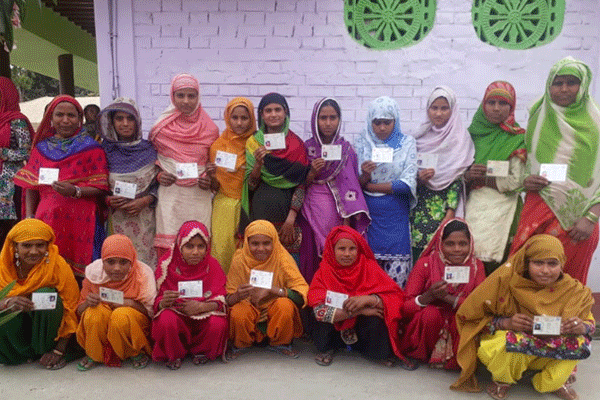 In honour of International Women's day, we thought it was important to spread the news about some of the amazing work we have done in Nepal with our partner Mandwi. Our partnership with Mandwi is something special, and together we've been working closely within the Terai community, mobilising the village leaders and raising awareness on women's rights.
Mandwi is a female-led Nepali organisation, with a focus on the empowerment of women and children in Nepal. Founded in 2009 by a consortium of proactive women's rights activists, lawyers and community leaders, these ladies are making waves! Over the past decade Mandwi have succeeded in upholding government accountability through media campaigns, advocacy, negotiation, correspondence and public interest litigation.
We couldn't be more proud to work with Mandwi!
Women's Welfare in Nepal
We spoke with Anju Jha, the Executive Director at Mandwi, about the work we've done together and had a look at the changes that are coming about because of it. Check out the Q&A below to find out more about our work in Nepal with Mandwi!
Q: Penny Appeal and Mandwi partnered up on the Women's Empowerment in Nepal project, which set up training schemes for women. Can you share a bit more about this socioeconomic project?
A: This project was really a very wonderful project. The impact has been beyond our imagination, it was more successful than we could have hoped. We provided vocational training to young girls, regarding mobile maintenance training and also computer training. To women, we provided training in sewing, beautician training and E-rickshaw driving. The women who benefited from this project are still working in the community today.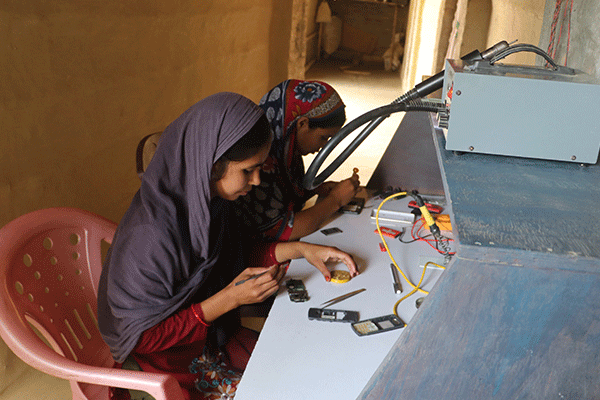 Q: One of the vocational skill training programmes was mobile phone maintenance and repair. How are the girls who participated in this doing now?
A: 10 adolescent girls took our mobile maintenance training, and they have all opened their own mobile repairing shop and started their businesses of mobile repairing. They are working and getting benefits for this; not only the girls though, but their families as well. The girls are doing very well, and they are role models in their societies.
Two girls from this training were from the same family. They don't have a father and were completely dependent on their uncle's support, but now they are earning every day. The girls are now around 17-years-old and are role models in their society. The girls belong to the Muslim community, and in their society [doing things like this] is really kind of prohibited in Nepal, but now all 10 girls are doing such types of business. Now other families are coming to us, asking when we will provide such types of training for their girls…People who opposed the training before are now accepting it.
Q: Another programme was the E-Rickshaw training. This is a very male-dominated field, so it's wonderful to hear about women breaking into it. Can you share more about this, and any updates on how the women are doing now?
A: It's not only a male dominated field; Mandwi has, for the first time, helped make a Muslim woman driver in Nepal. That in itself is history for Nepal!
5 Muslim women were skilled with E-Rickshaw training, and 3 women from the project are still driving in the mornings and evenings. The earnings from this project aren't the only things contributing to their livelihoods though, the main part is that their confidence and the way they live is now changing. Previously they were hesitant to talk to anyone or go anywhere, but after getting training, they now have the confidence to go out and if anything happens they will fight.
It breaks the traditional norms of restriction on mobility and the perception that women can't drive. Other women are getting inspired from these 3 ladies; it's not just economic, we are transforming the society.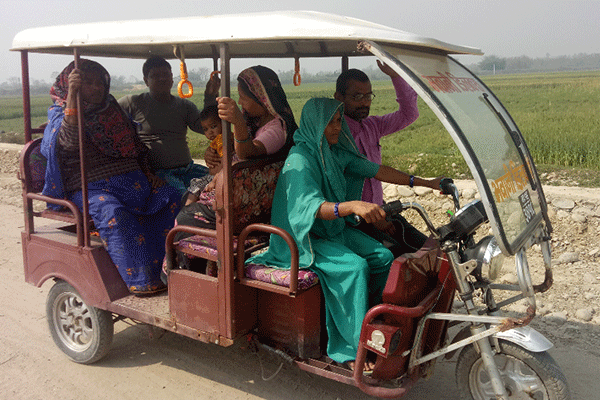 Q: You've helped fight for women's rights and supported nonregistered women in Nepal. How has this project helped with that?
A: Each Nepali citizen has a citizenship certificate. When you become 16, the government provides you a citizenship certificate and then you have the right to vote, you have the right to open a bank account, you have the right to go for a job – without citizenship you can't do anything. This project provided women with vocational skills but we also provided them with business support to help them open their businesses, but the condition of receiving funds was that the women needed to have a bank account. To open a bank account, you need a citizenship certificate.
Many men didn't want to provide citizenship certificates to the women because after this they would have property rights, and all their other rights. They didn't want to give this to the women, but it was a condition of the project. Women got a double right, they received the money from the project and citizenship. This project has contributed a lot to women's rights, not just economic empowerment!
After the formation of women advocacy platforms, these women took initiation over their rights and entitlements. As a result, 100 women have taken citizenship and 100 men and women did vital registrations like marriage registration, birth registration and so on.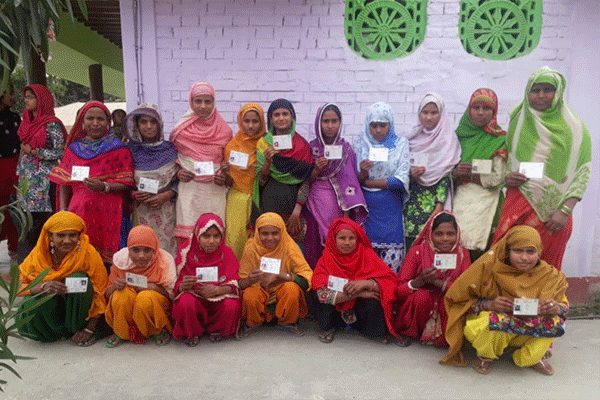 Q: It's always nice to hear about people of different faiths coming together to help each other. As a Hindu woman, how do you feel about helping empower disadvantaged Muslim women in Nepal?
A: The main motto of Mandwi is empowering women; we're working for change. Nepal is a Hindu majority and I am a Hindu woman, but religious values and being a citizen are different things. Being a woman, I want each woman to have the rights to enjoy everything provided by the constitution. By that thinking, I started this organisation to empower women.
In Nepal, women in two communities are the most vulnerable, the Dalits – the untouchable group – and the Muslim community. If you want to see hell, then look at the situation for Muslim women in Nepal. They have many problems…so much more in comparison to other communities.
I just think they are women. I never think they are Hindu or Muslim or whatever; I think, how can I empower these women?