Penny Appeal appoints new Chief Executive Officer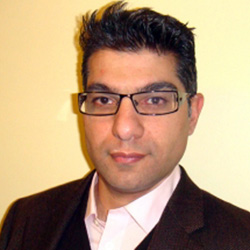 Penny Appeal is excited to announce the appointment of Mr Rizwan Khaliq as Chief Executive Officer, with effect from May 2012.

Established in 2009, Penny Appeal works to relieve poverty around the world and to provide orphaned or destitute children with an education that secures their future. To date, the charity has provided education for more than 100 children, supported relief efforts following the Kashmir and Haiti earthquakes and the Pakistan floods, and has recently opened its first orphanage.

Mr Khaliq joins the UK-based charity with a remit to instigate and deliver new fundraising campaigns and projects, and to develop new partnerships with a broad range of stakeholders in the UK and overseas.

Mr Khaliq has extensive experience and is well connected in the charity sector. He has previously managed several projects that have made a genuine difference to the lives of people around the world. Formerly CEO of the IF charity, he was responsible for its flagship campaign, Gaza 100, which set a new Guinness World Record and raised £140,000 to fund trauma projects delivered by Save the Children.

Mr Khaliq will be building on these experiences to drive Penny Appeal's growth and impact. The charity's Chairman, Adeem Younis, said: "I am delighted to confirm that Rizwan Khaliq has taken up his role as Chief Executive Officer. His appointment marks an important milestone for Penny Appeal and demonstrates that, not only do we have confidence in our ability to deliver projects around the world, but that we have huge ambitions for the future.

"Rizwan believes in our vision of making charitable giving affordable. He will play a major role in taking the charity to the next level, and I know that we will benefit greatly from his knowledge, skills and experiences. In turn, we will be able to help more victims of natural disasters, support more orphans in need of food and education, and give hope to the families who need it most."

Mr Khaliq said: "I would like to thank the Chairman and Board of Trustees for making me their CEO. Penny Appeal is definitely something special. We have a young, dynamic and energy-rich team here with a 'seize the day, fear nothing' attitude. This all bodes well for Penny Appeal and its development. Exciting times lie ahead!"

Mr Khaliq's first major project for Penny Appeal will be to deliver the charity's 2012 Ramadan campaign, Feed Our World, which aims to feed a minimum of 10,000 orphaned children and displaced families in ten crisis-hit countries during the last ten days of Ramadhan.