Our Charity Iftar Raises Over £34,000 for Turkey and Syria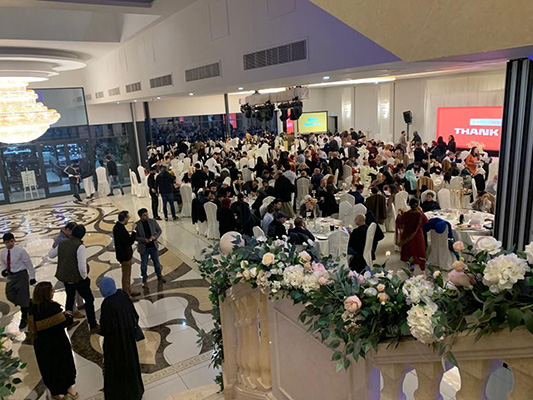 We were thrilled to have been invited to co-host a corporate charity Iftar last week, in partnership with Chadwick Lawrence Solicitors at the Madisson Hotel in Bradford. It was a hugely successful event with Over 450 people in attendance, who together raised over £34,000 for our Turkey & Syria Earthquake Emergency appeal.
We were joined by many inspirational people, from local business owners to MPs! It was great to see so many people getting involved from the local community and beyond. Individuals and families from all backgrounds came together to support such a worthy cause. The situation in Turkey and Syria continues to be one of loss and despair after the earthquakes which devastated the two countries on 6th February this year. Thousands of families have been forced to live in tents, wondering where their next meal might come from.
As the world looked on, we wasted no time in getting life-saving aid to the people of Turkey and Syria in their greatest time of need. Fundraising events like this one mean that we can help hundreds and thousands of people trying to survive.
Many attendees were moved by a speech from Graham Temple – a retired dental surgeon who happened to be on the scene at the time of the earthquakes. He provided life-saving aid to injured civilians on the ground. His selfless acts of humanity touched the hearts of many as he described the medical care he administered. Graham explained his desire to go back to Turkey to provide even more assistance there, he is a true inspiration.
Also in attendance and giving meaningful speeches were the Mayor of West Yorkshire, Tracy Brabin and the Chief Executive of Local Enterprise Partnership, Mark Roberts. The atmosphere in the room was one of inspiration and admiration for our guest speakers. Tracy Brabin spoke about the efforts of the community and how important it is for us all to play our part.
After speeches, a delicious Iftar was provided, it was a privilege to all break our fast together and be reminded of our duty to those in need, especially during the last nights of Ramadan.
We've wasted no time in getting the funds raised to the earthquake zone. Two members of our deployment team along with colleagues from Chadwick Lawrence were well on their way to Turkey just a couple of hours after the event. The funds will be spent on food parcels for those living in camps, medical assistance for injured civilians and emergency shelter for those whose homes were destroyed.
The people of Turkey and Syria are living in devastating conditions, many have lost their family members, their homes, and their livelihoods. Refugee camps now house millions who are forced to live in tents just meters away from where their homes once stood. Our humanitarian work is only possible with your help, donate £50 today to provide food for a struggling family in Turkey or Syria for an entire month.
We would like to extend a big thank you to all who attended our charity Iftar last week, we hope you enjoyed it as much as we did!