Penny Appeal on the ground in Sana'a, Yemen
Food parcels and hygiene kits distributed to cholera and famine victims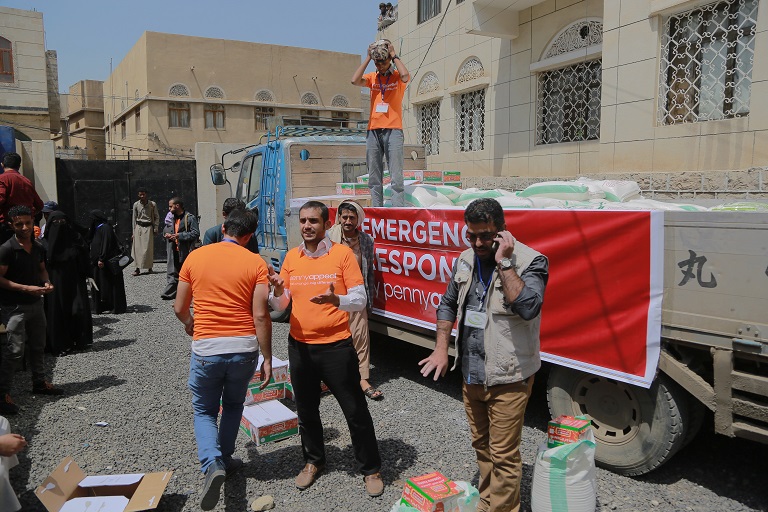 Penny Appeal emergency response teams are on the ground in Yemen, responding to the ongoing humanitarian crisis, with famine and cholera specific aid being delivered.
The project's objectives are two-fold, to improve the food security for 100 of the most vulnerable families in Sana'a City, and to participate in controlling the wider cholera epidemic through aid distribution.
Due to the alarming deterioration in countrywide food security in Yemen and the problematic spread of cholera in the country, aid is desperately needed.
Much of Yemen's infrastructure has been destroyed in the ongoing civil war, with capacity to treat and prevent the spread of cholera almost completely falling on NGOs and outside aid.
The humanitarian aid is being distributed in Sana'a City's poorest neighbourhoods, with Sho'ob and Bani Al-Harest districts, in which the cholera epidemic is at its most potent.
Food parcels delivered contain flour, rice, cooking oil, beans, sugar and tomato sauce. The hygiene kits contain, amongst other items; soap, toothpaste and toothbrushes, water purification tablets and detergent.
Hygiene kits have been delivered to poor families who previously fetched water from public tanks, which were most likely contaminated. Community-based volunteers bore the brunt of the distribution efforts, with special care taken to ensure aid was coordinated efficiently to reach those most in need.
Food distribution took place in a designated yard, wherein families were asked to bring appropriate documents, to crosscheck against existing databases to ensure all those who received aid were eligible.
Figures from the end of June reported that well over 200,000 people in Yemen were affected by cholera, with an estimated 5,000 new cases daily.