We're on our way to a World Record!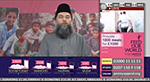 We've now been broadcasting LIVE for an incredible 6 days, 19 hours and 22 minutes... but we're not finished yet!

Our challenge is to make it to 11 days, 11 hours and 11 minutes and we're using every single second to raise money to help people in need around the world.

By supporting any of our projects this Ramadan you'll share in the collective reward for all the life-saving aid we can provide as a result of this challenge. And the rewards can be even greater now that we're in the last 10 days of the blessed month.

Be part of our World Record by tuning in to British Muslim TV (Sky 845 or britishmuslim.tv).

You'll find out about all our work, including our OrphanKind programme which provides all the care vulnerable children need for just 50p a day. Start sponsoring now to be part of this life-saving, highly rewardable World Record, call 03000 11 11 11.