Omar Regan brings the laughs to Penny Appeal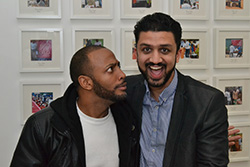 We had yet another special guest at Penny Appeal Head Office this week – comedian, actor and director Omar Regan graced us with his presence!
Omar is in the UK for our EXCLUSIVE tour of his Muslim comedy film American Sharia, so he called in to see how we're transforming the lives of orphans with the money being raised. Of course, he also raised a lot of smiles with his never-ending jokes and bubbly personality.
"I just feel the love here among my Penny Appeal family. Everybody's working together to make a difference and it really feels like a wonderful team of people," Omar said.
"Go Penny Appeal!"
If you're quick you can still get a ticket to see American Sharia – a few screenings have a handful of seats available. Book online now and be prepared to laugh!