The people of Nepal need YOUR help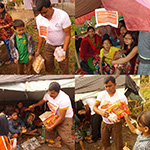 The earthquake in Nepal was the worst disaster to hit the country in over 80 years.

It has left over 8 million people in desperate need of humanitarian aid.

"People are scared, cold and have nowhere to turn," said Imran, our Country Manager in Nepal. "We're battling against damaged infrastructure and bad weather to reach those in the greatest need, and your support is vital."

Penny Appeal's teams are on the ground now and are already delivering life-saving food, shelter, household and hygiene items, and medical equipment directly to those who have been badly affected.

Please, save lives by donating now. Visit our Nepal Emergency page or call 03000 11 11 11.