Fundraising to the Finish Line: Penny Appeal Run the London Marathon 2023!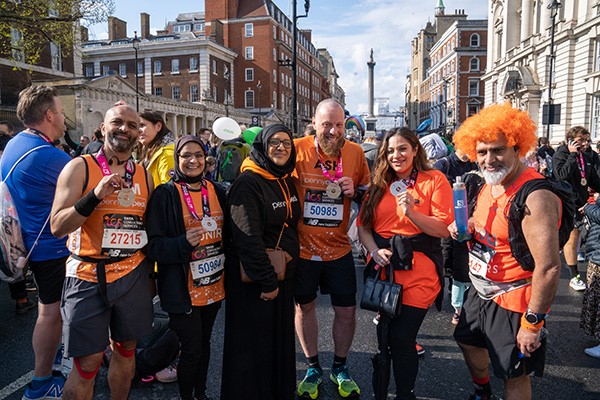 The London Marathon is one of the most iconic running events worldwide. Every year, thousands of runners, fundraisers, and supporters flood to the capital to tackle the 26.2-mile course. Whether a personal challenge, a bucket list tick, or an opportunity to raise awareness and funds, the London Marathon attracts people from every corner of the map.
We wanted to paint the city orange as our team took to the streets of the capital. 15 amazing Penny Appeal fundraisers took on the epic challenge, raising a whopping £30,000 between them to support our vital work in Turkey and Syria. With supporters, colleagues and even our CEO cheering them on from the side-lines, the Penny Appeal team made an impact that many will benefit from. Funds raised will go towards our Turkey & Syria Emergency Appeal, more specifically providing essentials like food, shelter, medical assistance, and education to those affected by conflict and natural disaster. Many families remain displaced after their homes were destroyed by the earthquakes, our fundraising is life-changing for many and lifesaving for others. Efforts switch to more long-term solutions as we begin to focus on the bigger picture. We must help them rebuild their lives. Our CEO, Ridwana, praised the runners for their heroic efforts; she said, "all the runners are heroes, not only for completing the race on the day, facing difficult conditions but also for raising over £30,000 to help the victims of the earthquake."
Circling Canary Wharf, proceeding along the River Thames past the Tower of London to Trafalgar Square, runners saw all the iconic landmarks of London before finishing in front of Buckingham Palace. The British weather brought out all the elements for the occasion, rain, cold, and more rain! Despite the testing conditions, our runners demonstrated their unwavering commitment to the cause. Described as one of the most testing marathons in recent times, the 2023 London Marathon was definitely one to remember.
Our 'Marathon Man' Ash Wallace, who has completed 5/6 Abbott World Marathons, finished with an amazing time of 4:19, a new PB! Recovery and celebration will be brief for Ash as he will soon be on his way to his next marathon. He soon hopes to break 4 hours and we're behind him every step of the way! We are so proud to also have several ladies who completed the 26.2-mile course raising funds for Penny Appeal, a first marathon experience for some.
Stationed around mile 9 and mile 25, our Penny Appeal team provided all the support our runners needed on the day. Cheering and encouragement from family, friends and colleagues made the atmosphere completely incredible. We're already excited for next year!
Do you fancy taking on the challenge of a lifetime? Whether it's running a marathon, hiking an iconic trek, or even jumping out of a plane, if you've been inspired by Team Orange, head to our Challenges page and sign up today.
We're attending events up and down the country and across the globe! Why not get involved and raise funds for our life-saving appeals.
Join #TeamOrange and push yourself to complete a challenge in 2023 or 2024. Challenge Events | Penny Appeal