Joining Forces with Rochdale's Army of Kindness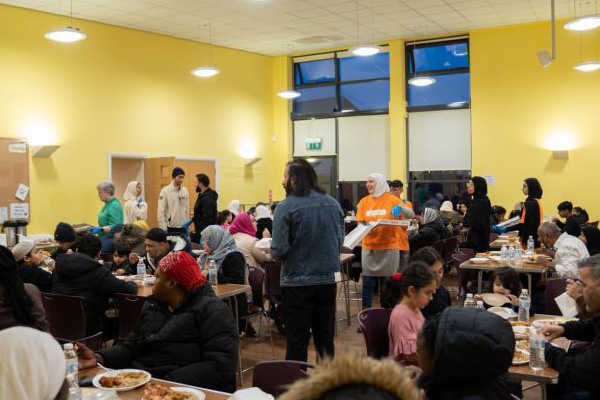 Over 200 people from different backgrounds came together last Sunday for oucharity Iftar in partnership with Rochdale organisation, Army of Kindness.
The event which took place on Sunday 16th April, aimed to providhot meals for the homeless, refugees ananyone on a low income in the Rochdale area. Many attendees were refugees from Syria, Iraq, Somalia, Sri Lanka, Palestine, and Ukraine, forced to leave their homes due to ongoing conflict in their home country. Taking place at St Andrews Methodist Church in Rochdale, the community Iftar was a resounding success.
We share the spirit of kindness and tgiving with Army of Kindness who, like us, are dedicated to providing for the community. Together we prepare and distribute hot meals to those who may be homeless, vulnerable or on low income with no referral needed. Throughout the Covid-19 pandemic, Army of Kindness handed out food parcels and clothing to struggling families. Since 2015, our partnership has provided for local people and continues to do so today.
At Penny Appeal, we are committed to serving our community here in the UK as well as those suffering around the world. Rochdale houses many refugees and asylum seekers but also faces its own battle with rising rates of homelessness, unemployment, and poverty. This is why we've had a longstanding partnership with Army of Kindness, often volunteering at their hot meal distributions; our values of helping others align.
On the menu for Iftar was chicken masala and rice with a mix of cooked starters. It was great to see communities come together, some fasting and some not, all enjoying delicious hot food together. After a bit of dessert, members of the community who joined us enjoyed conversation about Rochdale, faith, and the power of community, not to forget a hot drink and biscuits!
Spokesperson for Army of Kindness, Mohammed Sheraz said "we are delighted to have partnered with Penny Appeal to launch the Rochdale Iftar. It was an amazing evening where we came together to share in the spirit of kindness and generosity, Penny Appeal is a fantastic charity, and it was an honour to work alongside them to make a difference in our community."
We were thrilled to co-host this event and found the whole experience to be a great success. Evenings like this one on April 16th demonstrate the good we can do when we work together.