IT'S IN THE BAG!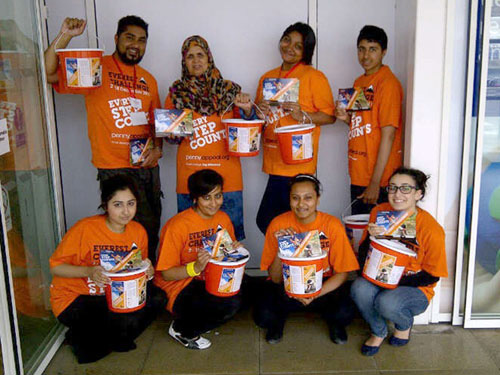 A team of Penny Appeal fundraisers raised over £500 whilst charity bag packing at Tesco's Seacroft store in Leeds on Saturday 16th July.

The nine-strong team included three members of Penny Appeal's Team Everest, Irfan Iqbal, Zakia Younis and Shaazia Usman, who will be undertaking a sponsored trek to Everest Base Camp in December. They were joined by Sheenah Usman, Aamirah Iqbal, Safiyah Munshi, Aaisha Usman, Nabila Qureshi and Sulaimaan Qureshi.

Penny Appeal Chairman, Adeem Younis, commented: "Thanks to the hard work of our dedicated fundraising team, this event has generated much needed funds for our Rebuilding Pakistan Appeal. We would like to thank Tesco shoppers in Leeds for their generosity, which has provided sufficient funds for a tube well to supply fresh water for a whole community or for two business start-up packages for families who lost their livelihoods in the 2010 floods."

A big thank you from Penny Appeal to all involved.