Provide iftaar meals in Jerusalem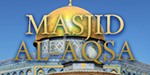 Nutritious iftaar meals are a vital part of fasting, so it's important that we do what we can tprovide food to poor and needy Muslims as part of our charity giving in this blessed month.
This Ramadan we have a unique and immensely rewarding way for you to provide iftaar meals.

Together with Al Buruj Press we're taking a group of over 200 people to Masjid al-Aqsa during the last 10 days of Ramadan, and during the odd nights they'll be distributing food to those in desperate need.
Provide iftaar meals to the people of Jerusalem for just £1 each and you'll be part of an incredibly rewarding deed.
With your support we can feed even more people and ensure they too can fast this Ramadan.