Embracing the Spirit of Ramadan: Fostering Unity, Compassion, and Service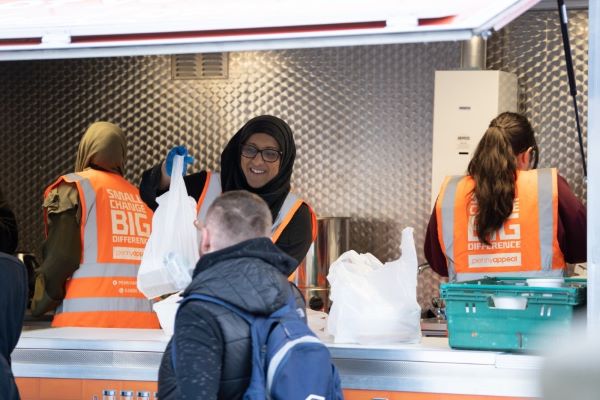 By Ridwana Wallace-Laher
The blessed month of Ramadan is racing on, and as we focus on spiritual rejuvenation, and reflection, I wanted to explore the opportunities this month offers to put our faith into action.

In the Qur'an, Allah (SWT) beautifully reminds us, "...and whoever does good willingly, Allah is truly Appreciative, All-Knowing." (2:158) - There is no good we do, big or small, that escapes Allah's Infinite Knowledge and if there was ever a time to commit to doing something for others, this is the month for it.
Inspired by this, a little over a year ago, during the height of the pandemic, my husband and I wanted to use our time to do something for those less fortunate in our community. We started small, reaching out to a couple local businesses and arranging a weekly distribution of hot meals to those in need. Our goal was not only to bring a little warmth and hope to the vulnerable, hungry, and homeless in Bradford, but also to role model to our daughters what social responsibility as Muslims could look like.
What began as a small weekly soup kitchen soon blossomed into a thriving collaboration between volunteers, local businesses, and Penny Appeal, all working together to provide delicious meals, essential items, and a helping hand to fellow Bradfordians in need.
We are grateful for the incredible support of local businesses like MyLahore, Aziz Catering, and Pakistan Catering, who generously provide delicious meals throughout the year. Penny Appeal's coordination is able to amplify these efforts by bringing more partners on board, helping with logistics, providing monthly care packs with essential hygiene items, as well as offering substantial winter necessities like sleeping bags and blankets.
Our beloved Prophet Muhammad ﷺ taught us, "The best of people are those that bring most benefit to others." This Ramadan, I want to invite you to put your faith into action and let the blessings of this beautiful month be a springboard for a long-term commitment to service.
Our Bradford initiative is just one example of the many community groups across the country dedicated to making a difference in their communities. Penny Appeal is committed to working with these passionate groups to catalyse and multiply their impact, this is what our faith is all about, working together for the betterment of all.
So, if you've already started something, get in touch on info@pennyappeal.org and let's see how we can amplify your work, and if you're thinking about it, then get in touch and let's start something together!
Ramadan's transformative power starts in the hearts of each and everyone of us, but if we nurture and direct that power into empathy and compassion, we can witness the miracle of Ramadan throughout the year. As we fast, we get a little taste of the challenges faced by those less fortunate, both in our own communities and around the world. We can't do everything ourselves, but we all can do something. We can all make a difference through volunteering a little of our time, donating a little of our wealth, and inspiring and encouraging each other to do a little more.
Together, we can strengthen our communities, live our faith, and make a lasting, positive impact on those who need it the most. May this Ramadan be a time of reflection, growth, and positive action for all of us. Ameen.
🌙 Wishing you a blessed, transformative, and action-driven Ramadan! 🌙