Day 2 in Morocco and Heartbroken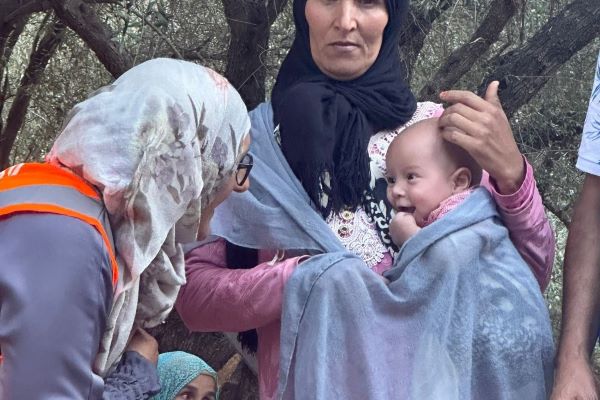 By Ridwana Wallace-Laher, CEO.
It's now my third day in Morocco and as I prepare to continue delivering aid in the severely affected earthquake zones, I find myself reflecting on everything I've witnessed so far. Being out here has reminded me of just how big of a responsibility I have in doing all that I possibly can to help the people of Morocco – this is why I am writing this blog, and why it is necessary I share my experiences with you.
What I've witnessed will stay with me forever.
Yesterday we set off at 6am from Marrakesh to a village called Tamsoult, which is located high in the Atlas Mountains. Due to the dirt tracks which consisted of extremely steep and narrow roads, we didn't arrive in Tamsoult until 3:30pm. This lengthy and most definitely not for the faint-hearted journey took us to a remote village affected by the deadly quake that hadn't yet received any aid.
Upon arriving in Tamsoult we found families sitting under open skies, many of whom had lost absolutely everything except the clothes on their backs, and others who were afraid to go back into their severely damaged homes in fear of them collapsing. The village was wrecked with shattered homes everywhere, life for these people will never again be how they knew it. I got very emotional seeing everyone gathered in the most remote location unable to go into their broken homes and left with no shelter or warmth.
We proceeded to distribute tents, mattresses, blankets, and warm clothes – these locations are prone to blistering cold, and with a rainstorm predicted this coming weekend it was a blessing to be able to provide this community with some protection.
The conversations I had in Tamsoult and the emotions I felt were like nothing I had experienced before. I spoke with a father who got very teary as he told me the earthquake had left him with only two options, either to sleep inside his hut with the risk of it collapsing and killing him and his family, or to sleep outside and risk being bitten and poisoned by snakes. He was very distressed and said that he was doing all that he could to protect his wife and children.
I also spoke with a mother who told me she didn't know what was happening or what to expect when the earthquake hit. She said she had initially ran out of her home to see what was going on, and then frantically ran back in to fetch her baby and her five other children. Alhamdulillah, her entire family survived the disaster. I also saw an old man who reminded me of my late father, immediately after locking eyes with him I broke down in tears – this was an extremely emotional day.
I was completely overwhelmed by the love and consideration these people who have lost everything showed me and my team. They hugged and embraced us and while doing so one lady said: ''We are so happy to see you, even if you didn't have anything to give us, we would still be happy that you came all the way here to see us because nobody has been able to reach us.'' It's very unlikely to see anyone around other than those who live in this village because of how remote it is, and so it was a blessing for us all to be able to make it to this isolated location. It was in fact because of Penny Appeal reaching this village that other aid agencies and support workers have now started to arrive in this location – Alhamdulillah.
We continued to distribute non-perishable food items to all families, this included things like lentils, rice, tuna, oil, and flour - it was enough food to sustain them for the coming months Insha'Allah. The worry now is how they will survive over the winter period. It's for this very reason we need as much help as we possibly can get. The need following such calamities is not just immediate, it's necessary for the long term in order to ensure vulnerable communities are able to survive the coming months and years. The struggle of rebuilding your life after losing absolutely everything is unimaginable.
We went on to visit the village mosque which was located even further up in the mountains. This blessed place of worship was now dysfunctional and broken. There was one room, however, that I was able to find my way into amid the rubble where I saw prayer mats still laying on the floor, this made me think about the last time this village gathered for prayer.
After we finished our distribution, the entire community came together and collectively said a prayer, a very moving moment, that almost didn't feel real. I didn't want to leave these people, yet it was time to say goodbye and pray that we can one day come back and provide even more support – Insha'Allah.
As I made my way back to the car, I noticed that one of the children had written 'thank you' and drawn lots of love hearts on the dusty car window, it reminded me of something my daughter would do. These people have lost everything, yet the love and gratitude they showed was beyond me. May Allah SWT grant them ease, protect them, and safeguard them during this devastating time – Ameen.
On our drive back down the mountain we came across many people from local villages on the sides of the roads waiting anxiously for support. We stopped off frequently and gave out cash donations which will allow these people to purchase exactly what they need during this tough time.
Today we continued our aid distribution in Marrakesh, and we also spent a significant time helping sweep the streets, working together to bring hope to local communities.
I will have more updates for you soon. In the meantime, please take a moment to make a donation no matter how big or small, because together, we really can make a big difference. May Allah SWT accept all our efforts and intentions during this time.
Jazak'Allah,
Ridwana Wallace-Laher