Our CEO in the Field this Qurbani!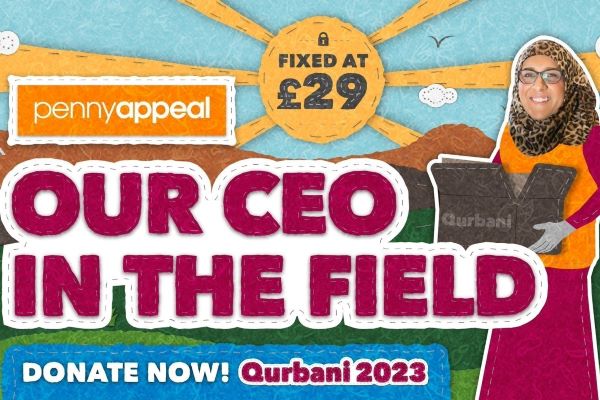 Witness first-hand the incredible impact of your generous Qurbani donations on families in need. Our CEO, Ridwana Wallace-Laher will be travelling out to India to be your eyes and ears on the ground, showcasing the life changing transformation your generosity is having. Qurbani is more than charity; it's a testament to our shared humanity and the power of unity. Read about her upcoming journey below and how your contributions can make a difference!
Qurbani is more than giving, it's connecting. A sacred duty. A chance to spark change, starting with a simple sacrifice of just £29.
In a few weeks I'll be travelling to India, the home of my ancestors. My mission? To see the power of your Qurbani donations with Penny Appeal and share it all with you. Together, we're making a difference for over 180,000 families - and I will be your eyes and ears on the ground showing you the lives you are changing through your generosity.
This is more than just a journey. It's a lifeline, a promise, and a testament to our shared humanity. Your sacrifice is their lifeline. Give your Qurbani today.
Qurbani is a sacred duty and a reminder of our shared responsibility for the welfare of the Ummah. Every year we honour Prophet Ibrahim (AS)'s willingness to sacrifice for the sake of Allah (SWT) and bring alive his tradition by doing the same and supporting those less fortunate.
Your Qurbani gift - just £29 a share - will provide nutritious, sustainable meals to millions of families living below the poverty line across the world and it's my honour to be overseeing some of this distribution across India, in Uttar Pradesh, Bihar, West Bengal, and Odisha. Every penny you donate will bring us one step closer to our target of 4 million meals and contribute to ending hunger, improving nutrition, and promoting sustainable agriculture in these regions.
Preparations are rolling! Thousands of animals are being readied, meeting the strict Qurbani requirements. I can't wait to share more with you on the ground.
Join me! Witness the amazing changes your donations bring. Qurbani is our shared legacy. So, dig deep, give freely and let's make a real difference together.
Whether it's one Qurbani or ten, your sacrifice is changing lives, donate now and let's make a difference together.
At just £29 per share, fulfilling your religious obligation has never been more affordable and rewarding. Ready to transform small change into a BIG difference? Give your Qurbani today!
Thank you for your support for Qurbani 2023 so far and be sure to follow my journey!
Ridwana Wallace-Laher
Chief Executive Officer
Click the link below to donate
Ridwana Wallace-Laher is fundraising for Penny Appeal (justgiving.com)