TURKEY: Child Caravan project in Sultanbeyli, Istanbul provides education to Syrian refugees
Inauguration ceremony takes place in gardens of Turkey's Refugee Association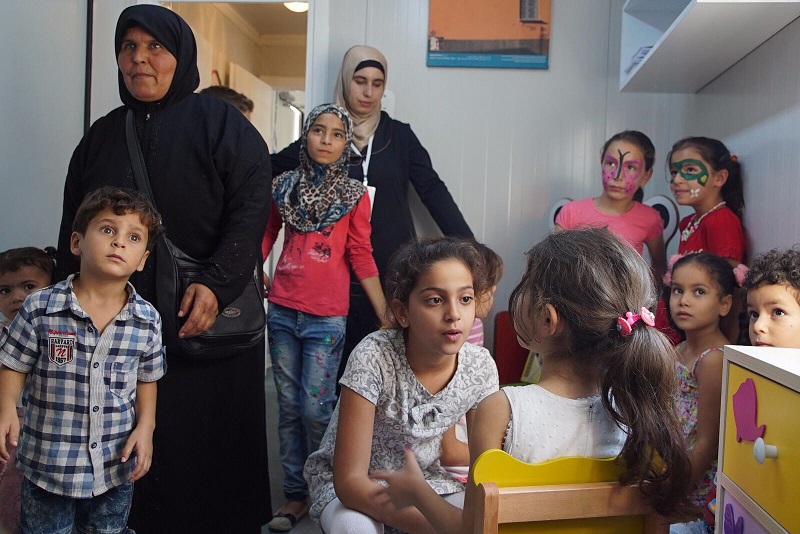 Six years of unending conflict in Syria has created an unprecedented refugee crisis. As a result, half of Syria's population have been forced to flee their homes, which equates to around 11 million people. This tide of refugees has emerged along the borders of countries who neighbour Syria, creating a unique and difficult challenge for NGOs and refugee agencies in the Middle East. As part of this challenge, a large proportion of the refugees are children, who have no access to education provision at a crucial time in their development.
Thousands have been re-housed and partially integrated into unfamiliar societies. To address this situation, Penny Appeal and its partners on the ground in the outer environs of Istanbul, have set up an initiative to provide education and integration services for children displaced by the Syrian Civil War.
This programme takes the form of a Child Caravan, which can be mobile to deliver education where the need arises. There are many different areas of the country that currently shelter child refugees from Syria, although this particular initiative is tasked with serving Sultanbeyli, a working class suburb of Istanbul.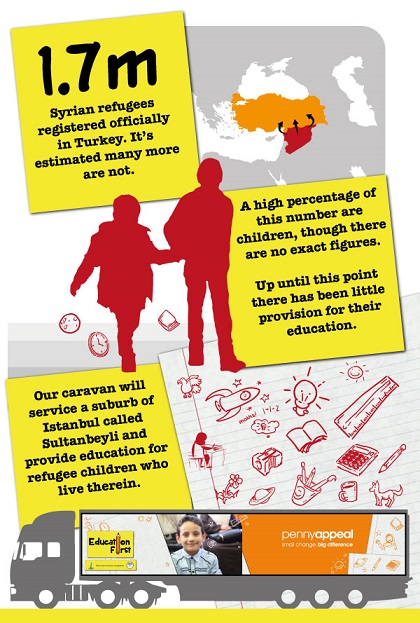 The Child Caravan's primary goals and objectives – as part of Penny Appeal's wider Education First programme – seek to contribute to the enrolment process of Syrian children into Turkish schools, to enhance education levels in beneficiaries through technology, deliver Turkish language lessons and to help Syrian children adapt to their new circumstances.
The entire curriculum delivered within the caravan – which is actually a re-purposed shipping container transported by a freight lorry – is designed to help the children integrate and prepare them for the Turkish education system they will eventually join. Multimedia visuals will be used, along with documentaries and lessons delivered by teachers trained specifically for this initiative.
The inauguration ceremony itself was held in the garden grounds of the community centre of the Mülteciler Derne?i, the Turkish Association for Refugees. The ceremony brought together Penny Appeal and its partners who brought the programme to term. The theme of the inauguration, as well as being a celebration of the initiatives' planning process coming to fruition was to underline the need to implement projects for the common benefit of society.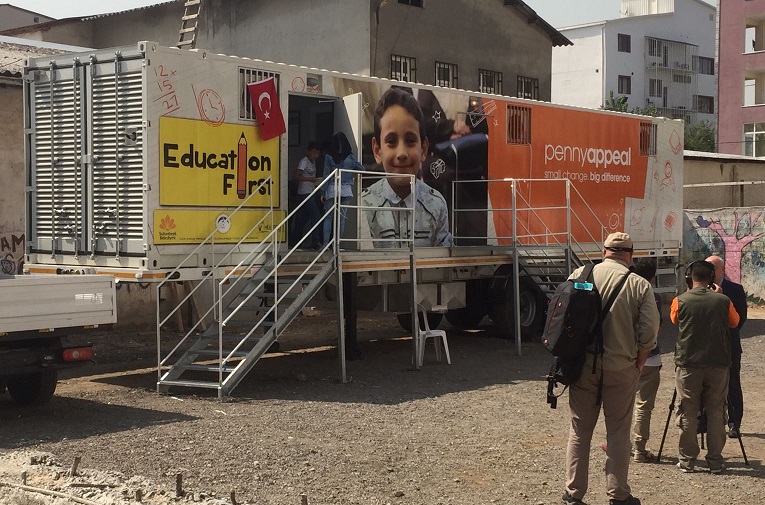 The caravan is divided into two parts, and built from long-lasting materials that have been acquired for a bespoke design that utilises the space available inside the trailer. The largest area is designated for educational activities, which is essentially the activity area. It is fully equipped with tablets, a screen projector and appropriate furniture as befitting an interactive classroom environment. The second area is a living space complete with furniture and meeting equipment.
With over 1.7 million Syrian refugees officially registered in Turkey, a large percentage of which are children, it is more than likely similar initiatives will begin to emerge in the future, as the current need is now profoundly apparent.