The Beirut Blast
Our Disaster Response Team's efforts in Lebanon
It only took a few minutes for the explosion in Beirut on the 4th August 2020 to destroy large portions of the city and cause mass devastation, but the people of Lebanon have been experiencing hardship and neglect for years before this tragedy occurred. While the blaze of the blast has long been quelled, the world watches as unrest and instability leave Lebanon burning.
After years of political issues, economic instability and the outbreak of COVID-19, the massive explosion of ammonium nitrates in Beirut's port has launched the country into crisis. Another crisis that is, but this time on a much larger scale. Before the blast, nearly 50% of people in Lebanon were living below the poverty line with COVID-19 exacerbating the country's financial crisis, and now Beirut governor Marwan Abboud has stated that as many as 300,000 people have been left homeless due to the explosion.
As the government resigns and a blatant negligence for the care of their people is put in the spotlight, the people of Lebanon need our support. In a rapid effort to provide emergency aid to those affected by the explosion in Beirut, Penny Appeal launched the first deployment of our Disaster Response Team on the 8th of August 2020.
The Disaster Response Team is working with two of our partners on the ground to deliver vital relief to those whose lives have been shaken by this tragic blast. We have been providing food packs, hot meals, hygiene kits, mattresses and blankets to thousands of people that have been made homeless and sought refuge in community centres, mosques, churches, schools and other safe community buildings in the area.
When the members of our Disaster Response Team first set foot in Beirut they were taken aback by the sheer amount of destruction all around them. It's one thing to see this devastation on the news, but something much more raw and touching when you witness it first-hand. The city is in shambles, and while people are rallying to clean the streets and work on repairing the damage, much more work is needed before the residents of Lebanon can be at peace.
Our Disaster Response Team in Action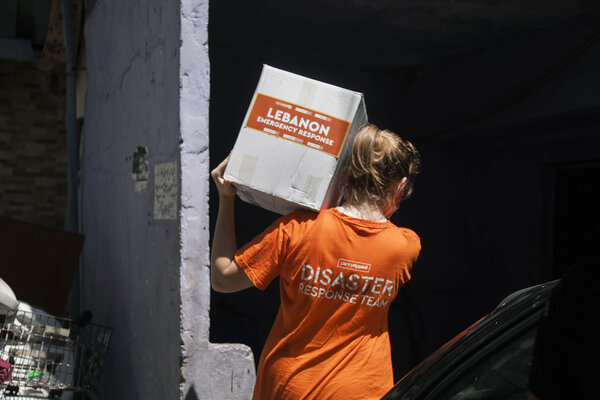 Nazim Tasadiq, Penny Appeal's Global Humanitarian Response Coordinator, is leading the Disaster Response Team currently in Beirut. The aid and distributions are going well but in order to make a greater impact more assistance is needed. "We need to start upscaling, especially in these early stages. We're responding at the moment but there is still so much more we can do." Nazim says, "Some of the homes that we have gone to are literally completely destroyed. A lot of these people, they've gone through so much already and it's just too much for any one person, or even one family, to take."
When the team arrived in Beirut, they started their aid mission by providing 5 hospitals run by the Lebanese branch of the Palestinian Red Crescent Society with medical supplies, burn creams and painkillers, as well as other types of medical kits. Soon after, they began their food pack and hygiene kit deliveries to those in need, and are currently aiding our partners with hot meal distributions.
An area of great need for the Lebanese people now is shelter. With the winter season in Lebanon starting around the end of September, it is vital that action is taken now to help assure that families have shelter in place once the cold sets in and are fully prepared for the coming months. The next step in our Lebanon Emergency campaign, in addition to making sure that people's needs for food, hygiene and medical aid are being met, will be to help raise funds for rebuilding homes in Lebanon. While rebuilding homes for these poor families, alternative temporary accommodation with be provided with the hope that families will be able to comfortably move back into their homes in around 3 months after construction begins.
In addition to tackling housing needs for the vulnerable Lebanese people, offering psychosocial support for families and children affected by the blast is another important step in helping the healing process. With a catastrophe on this large a scale, that has undoubtedly caused trauma for hundreds of thousands of people, there is a significant need for metal health care and support. Penny Appeal is working with our partners to station a psychosocial support bus in the heart of the community that has been affected by the explosion, which will be staffed with fully trained practitioners, running outreach programmes for the community.
Lebanon's crisis within crisis
"When you talk about crisis within crisis, I think with Lebanon, you can talk about crisis within crisis within crisis and keep going. Unfortunately, towards the end of last year the country was seeing mass protests as politically there is a lot of instability, there is a lot of economic hardship…Unemployment is really high and now because the economy is failing, the price of food items, accommodation and living costs have all gone up 3 to 5 times more, which is causing hardship. On top of all of this, there is covid-19 which has affected everyone across the globe."
Nazim tells us, "This feels like the tipping point for the people of Lebanon. Protests are happening quite regularly, the government has announced they are stepping down; Lebanon is a country that has faced a lot of hardships for many years, wars, political instability, a failing economy – this is a big period in Lebanon and now they're dealing with a bomb blast."
Nazim, everyone on the Disaster Response Team and our Lebanon Emergency Campaign are working tirelessly to provide much needed support to the people of Lebanon and the city of Beirut. Your donations are providing life-saving aid to those affected by this disaster, and it's your support that could make a world of difference to families struggling with poverty and homelessness in this desperate time.
Spare a prayer for Lebanon, and make a donation to our Lebanon Emergency appeal today to help our vulnerable brothers and sisters whose whole lives have been affected by this terrible disaster. Your generosity will make a real difference to those in need.