Adorn Your Home with Divine Beauty: Introducing Penny Appeal's Exclusive 99 Names of Allah Fridge Magnet Collection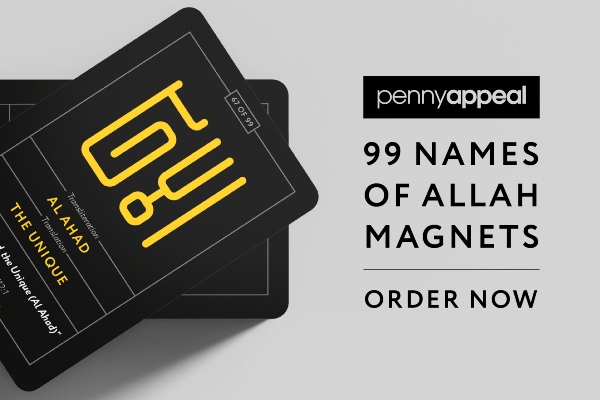 Penny Appeal is thrilled to introduce our exclusive range of beautiful fridge magnets featuring the 99 Names of Allah (SWT), designed to uplift your home and heart.
This beautiful collection is available in sets of 33, or as a complete set of 99 names, plus a free 100th magnet featuring the name "Allah" in stunning calligraphy (also sold separately). All proceeds from the sales will support Penny Appeal's transformative humanitarian projects worldwide.
Bring the Majesty of Allah's Names into Your Home
"God is beautiful and He loves beauty." Prophet Muhammad ﷺ
For over 1,400 years, faith-inspired art has been a hallmark of Muslim civilisation, from the tropical islands of Indonesia to the Andalusian shores of the Atlantic Ocean. Drawing on this rich legacy, Penny Appeal's 99 Names of Allah fridge magnet collection combines contemporary creativity with the timeless beauty of Islamic calligraphy.
Created in collaboration with the multi-award-winning London-based studio, Convey, this collection was inspired by the rich diversity and vibrancy of our faith. The minimalism of the Kufic Arabic script is elegantly combined with a palette of colours drawn from the Holy Kaaba, resulting in 99 unique pieces of calligraphy, each featuring one of the divine attributes of Allah (SWT).
Order Your Exclusive 99 Names of Allah Magnet Set Today
"Allah has ninety-nine names. Whoever preserves them will enter Paradise." Prophet Muhammad ﷺ
You cannot truly love Allah (SWT) unless you know Him, and to know Him by His divine attributes is to begin to know Him as He would like to be known. Our exclusive 99 Names of Allah magnet set serves as a beautiful reminder of Allah's (SWT) Presence in your home, uplifting your living space and the hearts of you and your loved ones.
Choose from Individual Sets or the Complete Collection
Our 99 Names of Allah magnet set is available in three individual sets, each featuring 33 names, or as a complete set with all 99 names, which includes a free 100th magnet with the name "Allah" inscribed in our exclusive calligraphic style. These beautiful calligraphic pieces make perfect additions to any home and wonderful gifts for friends and family.
Limited Stock Available – Order Now
Don't miss the chance to bring divine beauty into your home with Penny Appeal's exclusive 99 Names of Allah fridge magnet collection. With limited stock available, order your set today and help support our life-saving appeals across the world.
Adorn your home with the beauty and majesty of Allah's (SWT) Names, while making a big difference in the lives of those in need.

Order Now