5 Winter Disasters That Could Happen This Season
And how you can help prevent them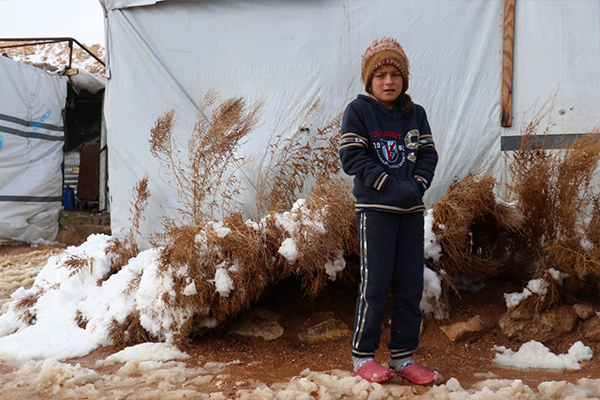 Winter can be a beautiful season with picturesque snowy scenes, icy outdoor activities and quality time spent inside warming up with our loved ones. But winter can also be dangerous if we're not prepared. Extremely cold temperatures, inclement weather and health risks like pneumonia or the flu are some of the dangers this season brings with it.
If we aren't careful tragedy could strike this winter. With the pandemic making a resurgence in many countries all over the globe, we need to take extra care this season and not just for ourselves either. From the UK to Afghanistan, millions of people will face the toughest winter of their lives this year without any means to protect themselves or their families from the icy winter disasters that could befall them.
Winter disasters happen all the time, but a little winter aid from you could stand in the way of winter disasters for the less fortunate this season. The Prophet (ﷺ) said "Give charity without delay, for it stands in the way of calamity." (Tirmidhi), so as you're warming up by the fire with your family or keeping cosy in your gloves and coat as you're out and about with friends, keep the Prophet's (ﷺ) words in your heart.
Let's take a look at 5 different winter disasters that could occur this season, and how a little winter aid from you can help prevent them.
1. The La Niña weather phenomenon could mean a prolonged winter in Pakistan, leaving families to freeze.
People in Pakistan might be looking at a prolonged winter season this year due to the weather phenomenon, La Niña. La Niña is a cold flux in ocean temperature that occurs in the Pacific every few years and when it occurs in the winter months, below average temperatures and heavy rainfall can be expected in affected countries.
Families living in Khyber Pakhtunkhwa are only just recovering from severe flooding that happened in late August, while simultaneously trying to protect themselves from the coronavirus that is rapidly spreading through Pakistan. Winter disaster preparedness is important, but these impoverished families simply don't have the means. With winter aid, thousands of Pakistani people could freeze.
2. Internally displaced people in Yemen could struggle to survive the winter without a home
There are 3.6 million internally displaced people throughout Yemen, many of whom will be living in makeshift shelter this winter. Currently, Yemen is facing one of the largest humanitarian crises in the world with around 80% of the population in need of dire support.
As winter closes in, millions of lives are at-risk. Without winter disaster preparedness support, Yemenis who are already struggling with poverty and displacement will not make it through the winter.
3. Hypothermia and COVID-19 could sweep through the Gaza Strip
In Palestine and throughout the Gaza Strip, winter often brings with it sub-zero temperatures. People living in poverty, 53% of all Gazans, have no protection from the cold. Children without warm winter coats run the risk of catching illnesses like hypothermia or pneumonia and with COVID-19 still at large in Palestine, people's lives are at serious risk this season.
1.56 million lives have already been lost to COVID-19 in Palestine and as the poor grow more vulnerable with cold weather setting in, more lives could be lost if our winter emergency response group in Gaza doesn't act fast.
4. Snow, rain and flash flooding could kill hundreds in Afghanistan
The average temperature during winter in Afghanistan is around -1 °C. Now faced with this freezing weather, the Afghani people in the Parwan Province are also dealing with the aftermath of recent flash flooding. The flooding killed over 500 people and injured 150, over 1,500 houses were destroyed and thousands have been displaced as a result.
Now snow, rain and the potential for more flooding is arriving in Afghanistan, but the people of Parwan are not ready. With some areas of the province completely ruined, vulnerable families need support with winter disaster preparedness measures or they could be left to face the harsh winter hungry and exposed to the elements.
5. The UK could face a humanitarian disaster, as the homeless freeze and coronavirus spreads
Throughout the UK there are currently 320,000 homeless people. Many of these people will be sleeping rough on the streets or couch surfing to find refuge from the cold this winter. Recent reports have stated that homelessness is now on the rise and with the recent resurgence of COVID-19 in Britain, a humanitarian disaster could be on the horizon.
With shelters adhering to coronavirus restrictions this year, there will be less housing options for the homeless. Many will be left out in the cold without a proper way to stay warm. Many will freeze.
How can you prevent these winter disasters?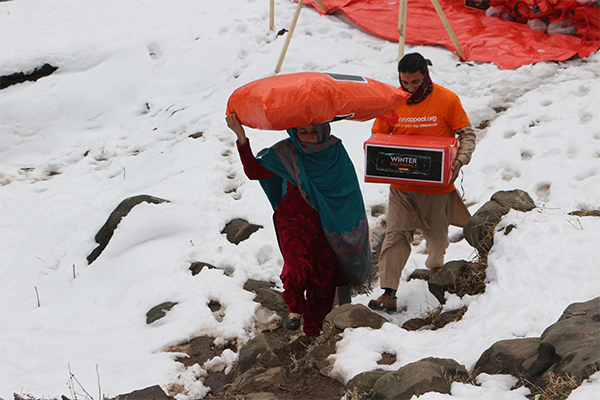 Penny Appeal's Winter Emergency is working in all these countries and more this season to help protect vulnerable families from winter disasters such as these. We have an emergency response group set up in Lebanon, Palestine, Pakistan, Kashmir, Afghanistan, Syria, Yemen, Turkey and right here at home in the UK to provide vital winter aid to those in serious need. We're delivering food packs and hygiene kits, warm blankets and clothing, and fuel for heating homes, as well as providing shelter assistance to families in need of tents or winter-proofing repairs.
Home is not home when disaster strikes but with your help, we can provide each country's emergency response group with the support they need to deliver life-saving winter aid. For as little as £25 you could protect refugees, impoverished families and the homeless from the bitter chill of winter.
You can stand in the way of winter disasters this season by donating a little winter charity to the less fortunate. Help us protect our brothers and sisters all over the world and bring the warm feeling of home to those in need.