Winter Virtual Challenges
Millions of people all over the world are not prepared for the icy chill of winter. From impoverished families in Yemen who are struggling to put food on the table to the homeless who are sleeping rough in England, the vulnerable need our help.
With new National Lockdown restrictions now in place, our Winter Virtual Challenge is just the thing you need to keep motivated, stay safe and save lives this winter. Home is not home when disaster strikes…but you can be there to help by taking on a Virtual Challenge for FREE this season!
Sign up to walk, jog, cycle or choose your own activity to support our Emergency Response appeal, and you could be a real winter warrior this season.
Let's Move - Together, we can save lives!
Minimum Sponsorship: £50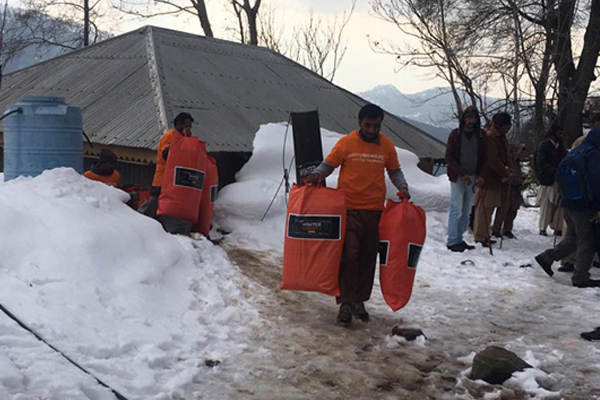 Get Active this Winter!
When you sign up for a Virtual Challenge this winter, you'll be keeping fit and saving lives.
New National Lockdown measures now mean that we should stay indoors where possible, but you can still exercise indoors or outside on your own, with the members of your household or with your support bubble if you are allowed one. Taking on our Winter Virtual Challenge is a great way to stay active throughout this lockdown and keep your spirits high this winter.
Whether you choose to run, walk, jog, cycle or pick an activity of your own, you'll be doing it all for Emergency Response. Our Emergency Response appeal delivers essential aid to the vulnerable people that have been affected by war, famine or natural disasters, so every mile you go this season will literally save lives.
You can join Team Orange and be a winter warrior for those in need by signing up to take on a Virtual Challenge of your choosing. This Virtual Challenges is yours to take on however you like, so make the most of the season and do something special for the less fortunate!
Record your racing goals on Strava or another favourite fitness app and once you've reached your virtual finish line, simply submit the proof of results, so we can celebrate all your hard winter work together!
Choose Your Virtual Winter Challenge
This is your chance to craft your own Virtual Challenge to raise funds for the less fortunate during the winter season!
If you love running, take a few trips around the block or even challenge yourself to run a virtual marathon. If cycling is your thing, then you can start your very own virtual Giro d'Italia and cycle about 3,500km this winter… You can start your own 30-day plank challenge, push yourself to the limit with some push-ups or take on 100 squats – the choice is 100% yours!
This virtual challenge has NO registration fee, so all you have to do is sign up and set up your very own Just Giving page for your challenge.
Check out some of our awesome ideas HERE!
If We Can Do It, So Can You!
See statements below from some of our amazing participants and get your inspiration to join us this winter on a Virtual Challenge!
Ifran Ali
"My final stats of my 100 day run challenge: Over 500km – 313 miles covered…I did this to get out of my comfort zone and I am thankful I did because I now feel I can do anything I put my mind to."
Robina
"We took on this virtual challenge to raise much needed funds for the people of Yemen. In this day and age, no one should be living in this way. We live privileged lives and are never even hungry enough for our next meal, yet these people do not even know where the next one is coming from. The lives we live and the lives they live are so far apart, yet there is something that draws us together. May Allah (SWT) accept our efforts and make us amongst those people that He is pleased with."
STAY CONNECTED – GO FURTHER
We're asking you to use the hashtag #WinterWarrior on social media, and to nominate at least 3 friends to join you for a Penny Appeal Virtual Challenge. Don't forget to tag @TeamOrangePA & @PennyAppeal on Instagram, Twitter & Facebook – we'd love to see your updates and follow your progress.
We've created ways for you stay connected and motivated online:
We're on Strava! 🍊 https://www.strava.com/clubs/teamorangepa Download the App to track your workouts and join the Team Orange club, meet other runners, cyclists & hikers. Stay connected, check the weekly leaderboard and be inspired to go further!!
We also have a Penny Appeal Challenges Facebook group: https://www.facebook.com/groups/PennyAppealChallenges/ Network, share your own milestones and fundraising updates.
Let's race together this season with #TeamOrange
For more information please contact our Challenges Team on 07739 363894, or challenges@pennyappeal.org