Walk for Water
Trek up the highest Mountain in Wales with #TeamOrange on Saturday 27th June 2020, and help build a water well.
For millions of people around the world, getting clean water isn't just a case of turning on the tap. You can provide reliable access to clean water by building a well with our 'Walk for Water' challenge.
Places are limited so sign up now! Please note, you will need to register below and then pay your deposit at the bottom of the page to secure your place.
Download our info pack which has everything you need to know about the trek.
Registration: £35 Min Sponsorship: £300

Over 100 fundraisers joined our 2019 trek raising more than £50,000, funding the construction of 150 wells. Watch our highlights video here to find out more!

To take part you will need to pay a registration fee and commit to raising a further £300 before the day. This will build a well in your name or in the name of a loved one. Once you've raised the full amount, we'll commission a well and you'll receive a feedback report from us, which will include pictures of your newly constructed water well.
With your help, we can bring clean water to rural communities, giving them safe water for drinking, cooking and cleaning, water for their crops and animals and the chance to break out of the poverty cycle. There's no limit on fundraising, raise more and we can build more wells for you and reach more people in need. Raising £600 will build you two wells, £900 will fund the construction of three wells whilst raising £1500 could build five wells, helping five entire communities. How many wells will you aim for?
Travel
We will be travelling to North Wales early on Saturday morning. Transport is provided from London, Birmingham, Mancester & Bradford. We will contact you with pick location & times closer to the time. Download the information pack for further information.
Registration fee
£30 – Your registration fee includes transport and qualified Mountain Guides.
Prophet Muhammad ﷺ said:
"The best charity is giving water to drink"
What your Well can do
Reliable access to safe, clean water means that drinking, cooking, washing, watering crops and animals and making wudu no longer pose a risk of illness. This allows those less fortunate a chance to break free from poverty and transform their lives for years to come.
Once we've received the full payment for your wells, we can then start to assess the best place for it to be built in your chosen country, with your chosen plaque details.
We use a stringent third-party selection process to ensure only the most needy benefit and the whole process from start to finish after payment is an estimated 9 to 12 months.
When your well has been built and functional, we'll send you an individual feedback report so you can see it in action and find out about the people whose lives you've changed.
Your feedback report contains:
Information on the village where your well is located
Information about the community who have benefited
A message from the grateful community
Pictures of the construction and the finished well in use
A framed picture to share with friends and family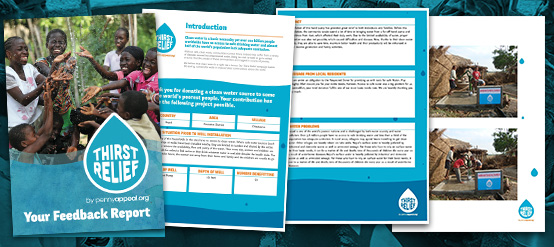 Get your fundraising off to a flying start by setting up your own JustGiving page to take online donations. CLICK HERE to set up your page. Once you've set up your fundraising page click on the box below to join our team justgiving page.
You can also make the most of your fundraising and training efforts by sharing your story on social media. Don't forget to use the hashtag #PennyAppeal #TeamOrange & tag @teamorangepa for shares!
For more information please contact Haroon on 07714 249 215, haroon.mota@pennyappeal.org