BEIRUT MARATHON – SIGN UP TODAY!
Sunday 12th November 2023
Join #TeamOrange and over 20,000 others on the incredible Beirut Marathon!
A run like no other!




The Beirut Marathon was founded with peace and unity at the forefront of its mission. What started off as a small local race in 2003 has now become an internationally renowned marathon welcoming over 109 nationalities on its course over 20 years, and we're so proud to have #TeamOrange represent at this year's event.
As part of this year's programme, we will be giving you the opportunity to run this very special race whilst also joining us in our mission of delivering aid to communities most in need while in Lebanon! We want you to see the impact you're having by joining #TeamOrange!
And we'll support you every step of the way!
Option 1 - Race + Distributing aid
Registration fee: £50 Minimum sponsorship: £950
This package will provide you with all you need to run the Beirut Marathon and will also give you the opportunity to personally visit communities in need across Lebanon and distribute aid. This is a rare opportunity for you to personally witness your aid in action.

Option 2 - Distributing aid + Supporting racers
Registration fee: £15 Minimum sponsorship: £950
If you feel you're not yet ready to run the Beirut Marathon but would love to be involved in our aid distribution and immerse yourself in the electric atmosphere while supporting the #TeamOrange runners, then this is a great opportunity for you!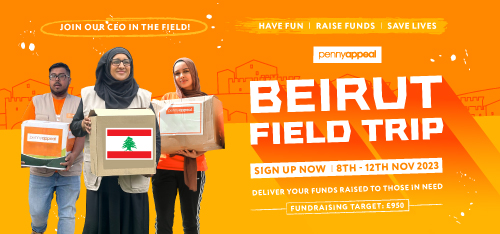 The itinerary
Flight to Beirut, Lebanon on Wednesday 8th November
#TeamOrange Aid delivery – Thursday 9th & Friday 10th November
Race number collection – Saturday 11th November
Race day – Sunday 12th November
Flight back home – Monday 13th November
Please note:
All participants will need to book their own flights and accommodation, we are happy to provide suggestions on the best places to stay.
Why join #TeamOrange?
If you want to be a part of a team that uplifts you, supports you and works together to achieve greatness than you need to join #TeamOrange! We'll be with you throughout your entire experience, from the moment you sign up to the moment you cross the finish line. We'll give you all the support and encouragement you need - whenever, and wherever you need it!
Join us and you will receive…
A unique #TeamOrange technical running vest or t-shirt.
#TeamOrange fundraising pack & advice from our friendly & experienced fundraising team.
Access to our online forum to meet fellow #TeamOrange Beirut Marathon runners.
Opportunities to volunteer with #TeamOrange and take part in various other campaigns, events, and sponsored challenges, including mountain climbs, sky dives, international challenges.
Your fundraising could make a BIG difference...
Penny Appeal always strives to respond to global disasters and emergencies as they happen, but more importantly, we are always working to grow our capacity. This means delivering aid quicker, and working more efficiently towards having a sustainable impact, benefiting more people than ever before!
Beirut Marathon history...
On the morning of October 19th, 2003, Lebanon witnessed a unique event in its history and hosted its first international Marathon. It all began with a dream that May El Khalil had of bringing the running culture to Lebanon. After surviving a near fatal accident while running, May El Khalil began to actualise her dream: from her hospital bed she oversaw the emergence of the Beirut Marathon Association. Armed with determination, unwavering resolve, and the help of her family, friends, and a dedicated team of supporters, May succeeded in establishing one of the most successful running events in the region, the Beirut International Marathon. Since the launching of that first race in 2003, the Association has grown and continued to thrive, adding annual races, events, and activities that encouraged the growth of the running culture in the country. Today, the Beirut Marathon Association organises the yearly Youth Race, Women's Race, Half Marathon and Beirut International Marathon. All this is accomplished with one goal in mind: to build the running community and culture across Lebanon with the message of peace and love.
For more information or queries contact our Challenges Team on: