Bangladesh Monsoon Emergency
Hundreds die in monsoon floods across the region.
Each year, heavy monsoon rains threaten millions of lives across South Asia. This year's monsoon season is thought to be the worst in over a century, causing widespread damage across Bangladesh. Hundreds of people have died, while many more have lost their homes, livelihoods and lack access to essential food, water, and even basic medical assistance.
Penny Appeal is working with partners on the ground to provide life-saving support to those whose lives have been torn apart this Monsoon season.
Donate to Bangladesh Emergency Food and Shelters





Help People like Fahmida
Watch the devastating story of Fahmida, whose granddaughter died during the floods. The family have been dealing with the horrific effects of the Monsoon since the beginning of Ramadan and have lost everything. They have created a temporary shelter as their house is ruined:
The Consequences of the Floods

Heavy Monsoon rainfall has caused widespread devastation across the Sylhet, Moulvibazar and Cox's Bazar regions of Bangladesh. The floods have affected at least 250,000 people in Moulvibazar and over 400,000 people in Sylhet district. Four refugees from Myanmar have lost their lives due to these floods.
Many local people have said these floods are the worst they have seen in 40 years. The floods have affected all aspects of live in Bangladesh, having blocked roads and central areas of the town, and causing severe damage to shops. Many families have lost their main source of income, as their livestock has been swept away.
Help the People from Bangladesh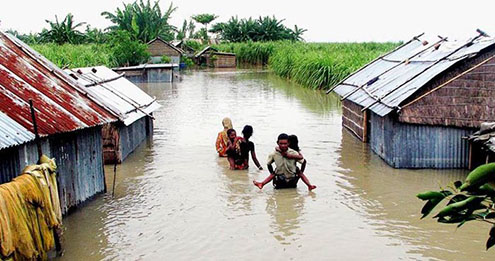 Being trapped and surrounded by deep floodwater means people are unable to buy food, and their supplies at home are running out quickly. Moreover, the strong winds and heavy rains put lives and property at risk. Entire livelihoods, cattle and farmland are destroyed, leaving people with nothing and no form of income.