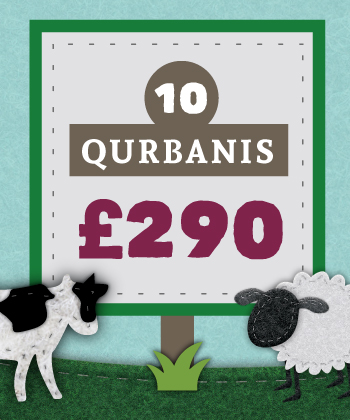 ---
---
Buy 10 Qurbanis for £290 and provide 570 meals to families living in poverty this Eid.
We at Penny Appeal take your right of Qurbani seriously. That's why we source and slaughter the healthiest animals with your Qurbani, maintaining your duty as a Muslim and guaranteeing your money reaches those who need it most.
Last year, we delivered over 6 MILLION meals with your Qurbani!
Our one simple price of £29 per Qurbani ensures your Qurbani is sourced from trusted farmers and supplied to those most in need. In 2020, make Eid ul Adha extra special for those living in food poverty and hunger. From Asia to Africa, Penny Appeal is working across the world to ensure those living in poverty are supplied with your Qurbani and it is delivered at their convenience. One Qurbani can provide over 57 nutritious meals, and supply meat for those that have limited access to it throughout the year.
We promise to maintain high quality standards in sourcing, ensuring the people most deserving are receiving the meat and to make the Islamic duty of Qurbani overall easier, more accessible and beneficial for everyone involved.
Customers will receive a gift card with an enclosed receipt for the amount or Qurbanis purchased. The money spent will be used by Penny Appeal to fund Qurbani for the needy.
---