Team Talk - Eid Edition
Eid Mubarak to all!
Thank you very much for your love and support this Ramadan, with your help we were able to help thousands of lives across the world.

We pray that Allah SWT accepts and rewards your deeds this Ramadan and that his blessings fill your life with pleasures and open the doors of success today, tomorrow and always…

We just want to take a moment say you're awesome! And welcome to this special Ramadan issue of Team Talk, chalked full of information and opportunities to enhance your volunteering experience, so have a read and sign up for everything you can!
Fundraising Tips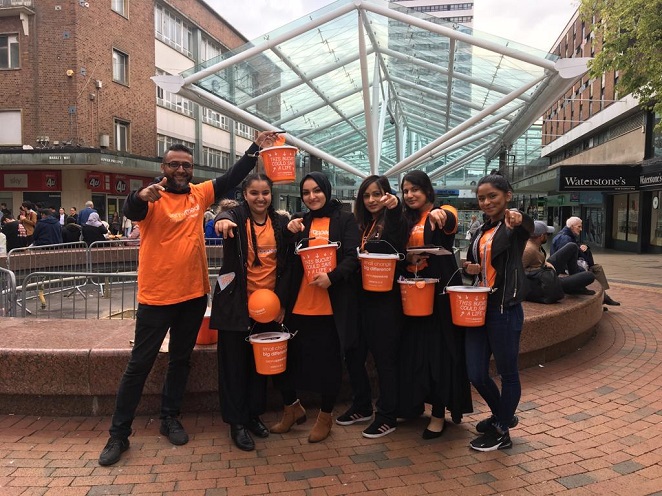 Feedback!
It's said that 20% of donations come in after you finish a Challenge Event, so utilise your social media and let people know how you got on. Think of an activity you took part in during Ramadan and upload your experience on social media. Let people know how you got on, your highlights and any links where people can continue to donate.
You can also message your local fundraiser for some feedback on the projects that you raised money for – that will act as a 'thank you' to people who donated (and a little nudge to those who haven't yet)!
Events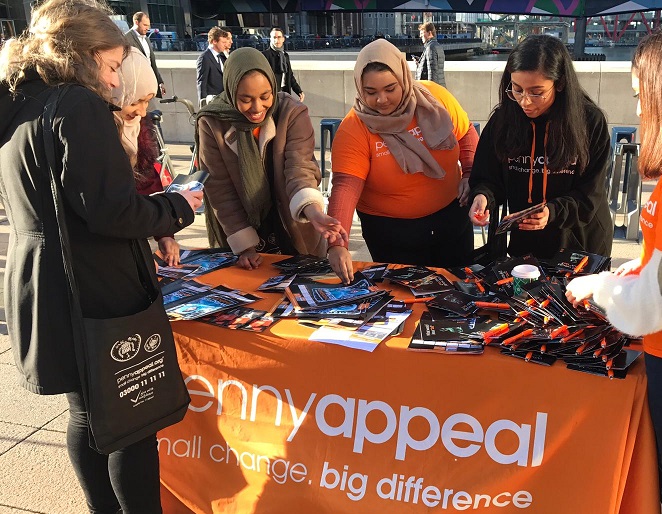 After a successful month of Ramadan coming to an end, Penny Appeal would like to thank all volunteers who have helped at the Community Iftars; lots of great feedback has been given about the PA team as usual!
June is not as busy for Penny Appeal events, giving everyone a well-deserved rest after Ramadan!
Penny Appeal will be making an appearance at Eid in the Square in London on the 8th of June as the official partners with the London Mayor - if you're the in area, drop by and come see what the team are doing at this year's stall.
The Muslim Nasheedical is back!
Penny Appeal and Brimero Entertainment have partnered up to bring you the Muslim musical event of the year. The Muslim cast of Eid with The Neighbours will have you singing along and laughing out loud with their eccentric characters and fascinating storyline. For more information, or to book your tickets visit us now at https://pennyappeal.org/event/the-muslim-nasheedical.
We've got an amazing opportunity just for you! We've partnered up with Muslim Scouting Group and are setting up a bunch of Team Orange scouting groups across the UK! In particular within Walsall, Northampton, Gloucester, Coventry and Derby. If you're from any of these regions or you're interested in setting up and managing your own Scouting group, get in touch now! Email teamorange@pennyappeal.org with subject heading "Scouts" to register your interest.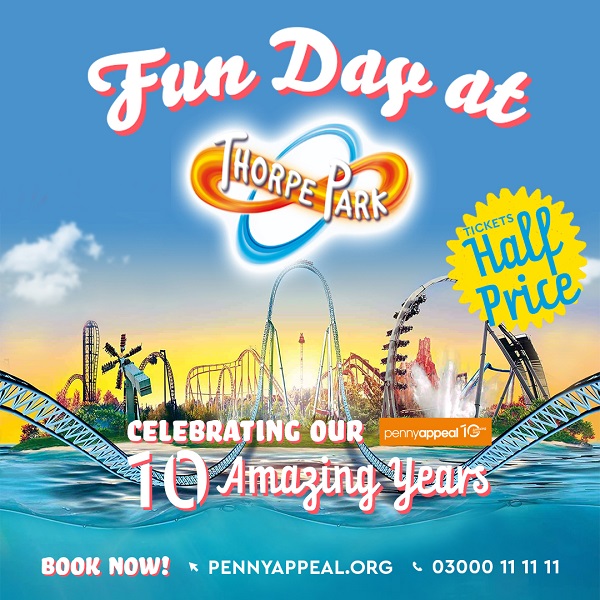 Not forgetting one of the most exciting events this year for Penny Appeal - you'll be aware we are celebrating our 10th anniversary this year, and will be offering supporters of Penny Appeal exclusive half price tickets to Thorpe Park on June 29th, contact your local fundraiser to get involved! Or visit our website to get your half price tickets now!


Programmes
Youth unemployment in Uganda is currently the highest in Africa. Particularly prevalent in rural areas of the country, it has caused an economic crisis with severe political and social challenges triggered by the fact that young people are simply unable to contribute to national development on any level. With 80% of the country's population aged under 30, the impact of youth unemployment is significant.
Penny Appeal has been working in close partnership with Action Aid and the European Commission to empower young people in Uganda to take an active role in sustainable economic activities in an effort to foster their contribution to Uganda's national development. We are empowering young people in northern Uganda to create employment opportunities for themselves, as well as teaching them to train and influence others, so that the wider community also benefit from this sustainable intervention. We are achieving this by giving the young people of northern Uganda employable skills paired with entrepreneurial knowledge, engaging them in innovative business opportunities, and improving coordination, dialogue and partnership between youth groups and local authorities. This project is currently underway in the city of Lira, as well as the districts of Amuru, Kotido, Nwoya, and Pader.
20 year old Samuel is one of the young people taking part in this incredible initiative. He lives in the sub country of Awere and has received training through an apprenticeship scheme organised as part of the project.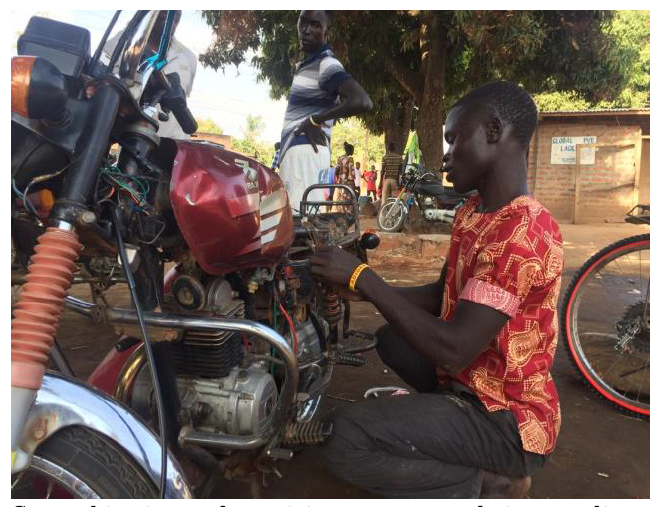 "In 2016, I had a little money and I decided to use it to learn to drive. I joined a driving school in Gulu, but only managed to complete the first two months. I had to drop out because I couldn't afford the fees or the accommodation costs.
Even though I couldn't complete the training, I was still very interested in motor vehicles. When I heard that you were offering apprenticeships to young people, I applied immediately! I was so happy the day I received the phone call saying that I had been selected to take part in your project and would receive training on motorcycle maintenance and repair. I had nearly given up on my dreams, but they came true!
The training was meant to take six months, running from July to December 2018, but due to my background and commitment, I learnt most of the skills in just three! In November, I asked my trainer if I could apply my newly learnt skills within the trading centre and he agreed. The apprenticeship scheme was the stepping stone I needed to reach my dreams, and I am so grateful to Penny Appeal for giving me a chance and empowering me to work."
Samuel is now the sole mechanic for motorcycles in the Lagile trading centre, where he is renowned for his reliability. Samuel and the other four youths in his group plan to use the start-up kits they received to take their business to the next level. Their goal is to have all the spare parts they need in their premises within the next two to five years, so that they can earn a living from the sale of goods and services.
Get Sorted
We regularly rely on the hard work and dedication of our volunteers and we love everything you do!
We're constantly looking for more ways to give you an awesome experience and have some amazing opportunities coming up. But to receive the full benefits of volunteering with us we need you to complete the volunteer registration process. Please make sure you complete the online application here and we'll send you a link to the induction presentation and online test… once you've passed, you're pretty much in! So please get on this ASAP to ensure you're first to hear about anything and everything we have coming up.
Complete the online application
Volunteer Spotlight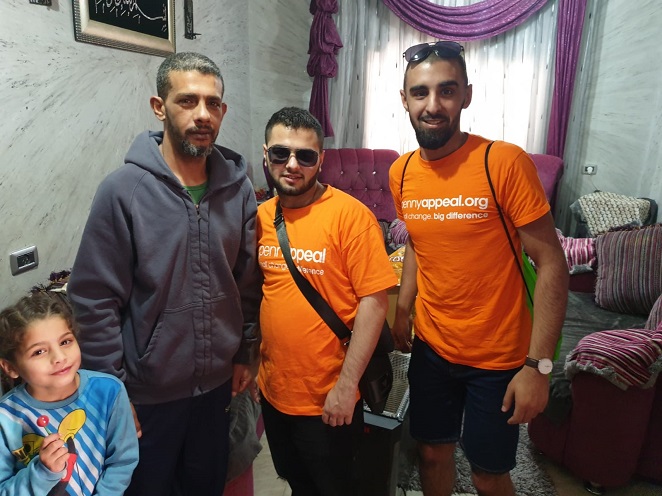 "I've been with Pennyappeal for 5 years this Ramadan, In Sha Allah. The joy of fundraising and knowing I'm helping those that really need us made me get involved & seeing those people being helped has kept me going striving for more. More recently I have visited projects in Palestine & Pakistan which motivates me to help as much as I can. Taking part in the Palestine marathon in March 2019 running for those brothers and sisters who have nothing, raising money for food packs and hand delivering the food packs seeing the smiles on their faces. A memory that I'll cherish forever."
Abraar Mahfooz, Administrative Assistant & Entrepreneur
"I have been a volunteer with Penny Appeal for 5 years now, also into my sixth Ramadhan of volunteering Alhamdulilah. What got me into volunteering for Penny Appeal was a few things actually, firstly I was a student at college and thought since I have a lot of free time on my hands then to do something which will make it worthwhile and beneficial. Secondly I was a very shy individual believe it or not, so joining Penny Appeal I thought would make me a lot more confident and push me to work on many life skills/attributes.
One of my most memorable experiences and moments with Penny Appeal would definitely have to be doing the Half Marathon run in Bethlehem. It was an amazing experience and one I will never forget. Seen as it was my first Half Marathon, I thought let's do it in style and also I had the blessed opportunity to hand deliever the aid to the less fortunate and those who needed it the most in the camps in Jerusalem. Alhamdulilah what a blessed opportunity.
A few other memorable experiences would surely be meeting amazing people which I can now call family. Also the events and knowing the real reason why you are doing this, firstly for the sake of Allah and secondly to make a difference to other people's lives."
Hishaam Mohammed, Dispatcher and Call Taker for the police
Volunteer Opportunities
We've got an amazing opportunity just for you! We've partnered up with Muslim Scouting Group and are setting up a bunch of Team Orange scouting groups across the UK! In particular within Walsall, Northampton, Gloucester, Coventry and Derby. If you're from any of these regions or you're interested in setting up and managing your own Scouting group, get in touch now! Email teamorange@pennyappeal.org with subject heading "Scouts" to register your interest.
We've got a bunch of opportunities in your region, ranging from activities with your local fundraiser, Penny Appeal at home, our shops, challenges and even our partnerships department!
You can register to take part in all of our upcoming activities, including our large scale events, Eid festivals, networking and sales from our partnerships department, food distributions, why not register some of your time to help us out in our PA shops? Whatever your interest, we've got something for you.
Register your interest here - and we'll be in touch soon.
Thank you!