Haroon is a "Good Citizen" of Coventry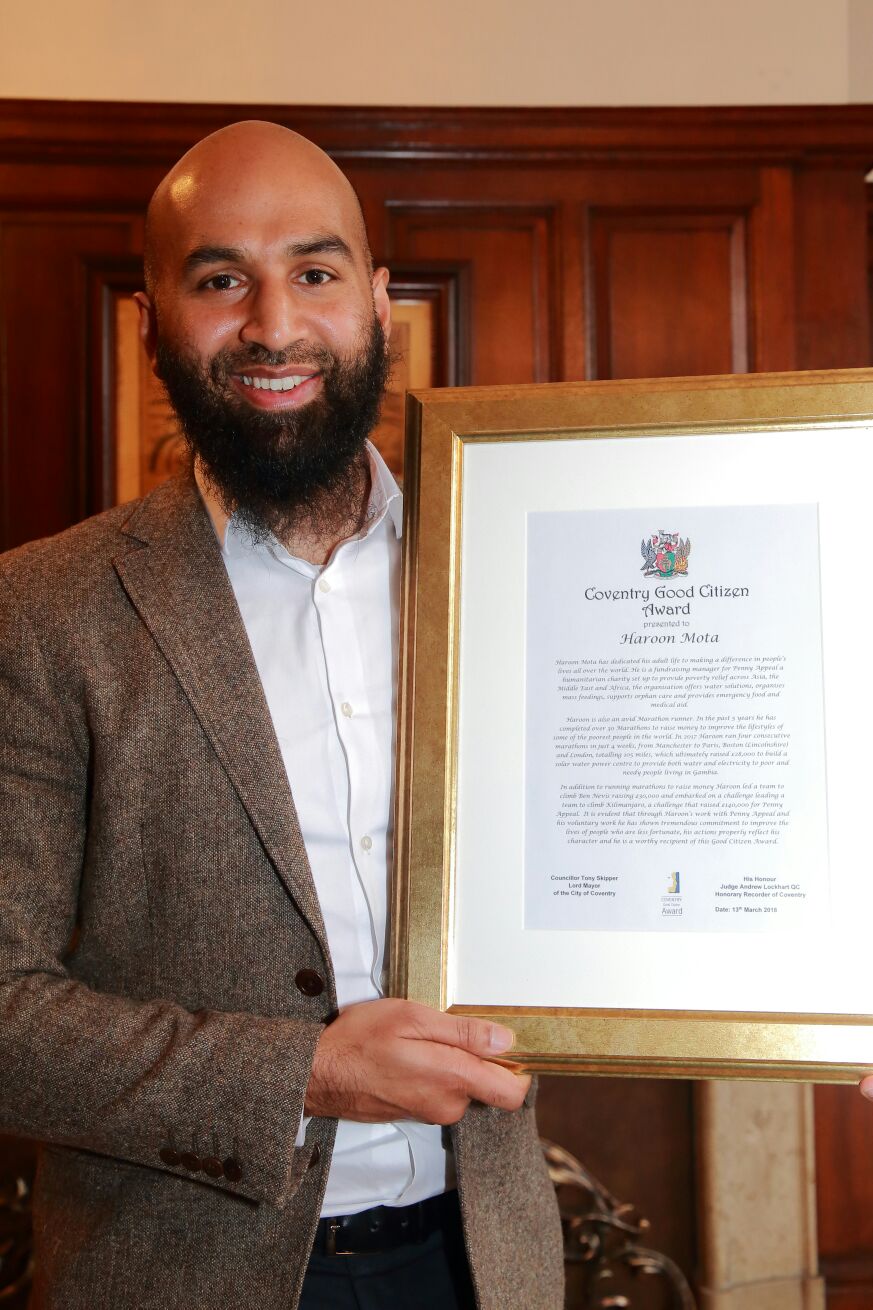 Penny Appeal Fund Raising Manager Haroon Mota has been chosen to receive the Coventry Good Citizen Award for his work with the charity.
Haroon has made an outstanding contribution to deprived communities around the world, helping to provide them with necessities such as clean water and electricity. He has achieved this by climbing mountains and running marathons in memory of his late father.
To celebrate his win, which is awarded by Coventry City Council, Haroon will be chauffeured from his home to have lunch with The Lady Mayoress in her Parlour, before receiving his certificate and citation.
"I was stunned and delighted to have received this accolade," said Haroon. "To be recognised for my work in my home town is a real honour."
One of his biggest challenges was to run four marathons in just four weeks, with the goal of raising £20,000 to build a solar water power centre to provide both water and electricity to poor and needy people living in The Gambia. His final fundraising total for this was £28,000. "I decided to embark on the challenge in memory of my late father who was tragically killed in a car crash," Haroon explained. "This challenge seemed a fitting honour to his memory, he was my motivation.
"We often take the blessing of water for granted. In Africa, dirty diseased water is a real killer. Running all of those miles in training and in the marathons was extremely tough, but the struggle for life without water is nothing in comparison. My goal was to provide the gift of water, and I'm so pleased that the construction of the clean water project is already underway. It will make huge difference."
Also this year, Haroon, who has raised more than £1m so far for Penny Appeal, has led 27 people to the roof of Africa when the team tackled Kilimanjaro raising a further £150k to build water wells and in March, he will lead a team of 70 people taking part in the Coventry half marathon, before taking part himself in the Palestine Marathon next month followed by a trek to Everest base camp in December.
Locally, Haroon has also been instrumental in feeding homeless and vulnerable adults in Coventry, after setting up a partnership with North Point Church's food bank in the city centre, ensuring thousands of hot meals are provided throughout the year on a weekly basis.
There are still a few places left for anyone wanting to join the Everest team in December.