Get Your #Cakes4Yemen!
Doing good never tasted this great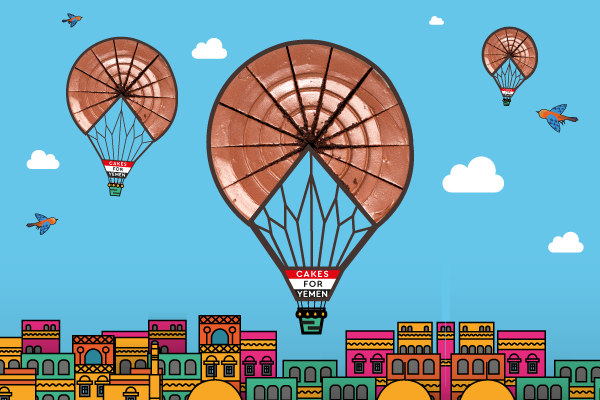 You can help us break the Poverty Cycle one slice at a time when you order a deliciously charitable chocolate cake for Yemen! Our #Cakes4Yemen campaign gives you the chance to enjosomething sweet, while funding some of Penny Appeal's life-saving projects in Yemen.
Our delicious cakes are just £10 for a large cake with 14 slices of gooey chocolate fudge. All proceeds go towards our Yemen Emergency appeal, which sends vital support to our brothers and sisters in Yemen. Yemen is experiencing one of the world's worst humanitarian crises, and the people who live here are suffering from the lasting effects of conflict, famine and a toppling health care system. Your order could provide people in need with essential food packs, clean water, medical supplies and hygiene kits. Who knew that a simple cake could help with all that!
Place Your Order to Save Lives!
Calories don't count when they're for charity right? Even if they still do, these cakes are worth the indulgence! Order yourself a chocolate fudge cakand show your family and friends how helping those in need is a real piece of cake!
To place your cake orders, please get in touch with one of our fundraisers today. Your cake will be prepared to order and delivered right to your doorstep by Penny Appeal staff and volunteers.
Cake sales and delivery will be running from March 17th until the last day of Ramadan, but be sure to get your orders in now to make the most – and eat the most – of this gorgeous chocolate cake.
Place your orders now with our Fundraiser Rania Khatib:
Rania Khatib. - London & South of England
📞 07932 50 91 50
✉️ Rania.Khatib@pennyappeal.org
Please note - Cakes can only be delivered in the below locations
#Cakes4Yemen Locations:
South England - Luton, Reading, West Ealing, Hayes, Leyton, Croydon, Slough, Barnet, Brent, Ealing, Kingston and Chelsea, Ilford, Tower Hamlets & Uxbridge.