Let's MOVE – Save Lives!
These multiple virtuafitness challenges are all set to get you racing!
You don't need a finish line to start your race, simply sign up online, lace up your trainers and step up to save lives around the world!
5k, 10k, marathons and more, these virtual challenges are yours to take on. You can even create your own challenge and do something you love while helping the people affected by COVID-19!
Do you have what it takes to race for Coronavirus Emergency Response?
Sign up today to find out!
Registration fee: £ Minimum Sponsorship: £50

Virtual Fitness Challenges
Check out our Let's Move- Save Lives virtual fitness challenges and sign up to walk, jog, run, or cycle for our Coronavirus Emergency appeal. Our Coronavirus Emergency appeal is delivering essential aid to vulnerable people in Asia, Africa, the Middle East and right here at home in the UK – sign up today to join the race against COVID-19!
The best part about all of our amazing virtual fitness challenges is that you can do them from home! Once you've reached your racing goals, simply submit the proof of results with the help of your favourite fitness app and we will send you a victory medal to celebrate all your hard work.
These virtual challenges are yours to take on wherever you like, and every step you take brings us one-step closer to helping those affected by COVID-19.
Penny Appeal Virtual 5k
This virtual 5k is a 3.1-mile race against COVID-19!
Sign up to race for Team Orange and set out on your own 5k course around your neighbourhood. Go at it solo or with members of your household, and race to help those vulnerable people affected by the coronavirus here at home and abroad.

Penny Appeal Virtual 10k
This virtual 10k is a 6.2-mile race against COVID-19!
Be a part of something special when you sign up for Penny Appeal's virtual 10k and raise funds for our Coronavirus Emergency appeal. Go at it solo or run with family members in your household; however you choose to race, you'll be doing it for an amazing cause!

Penny Appeal Virtual Half Marathon
This virtual half marathon is a 21km race against COVID-19!
Join Team Orange in an epic virtual half marathon of your own design! Pick you own path and set off on this 21km race, solo or with members of your household. Every kilometre you run and every penny you raise will help prevent the spread of COVID-19 in poor communities.

Penny Appeal Virtual Marathon
This virtual marathon is a 42km race against COVID-19!
This is what you've been training for! Take on Penny Appeal's Virtual Marathon to help protect thousands of lives from the coronavirus. Set out your own course and run, walk or jog for the most vulnerable in our global ummah!

Walk, Jog, Run, or Cycle
This virtual Walk, Jog, Run or Cyclchallenge is a 5-month race against COVID-19!
It's simple, just walk, jog, run, or cyclas much as you can between April 1st and Sept 30th, while raising funds for our Coronavirus Emergency appeal. Really go the distance with this challenge and aim for 50k, 100k or even 250k!

Ramadan Active Challenge
This virtual Ramadan Active challenge is a race against COVID-19 throughout the month of Ramadan!
This challenge gives you the opportunity to get out and do something amazing over the Holy month of Ramadan. Throughout the month, go for a run, jog, pleasant walk, or cyclaround the neighbourhood and keep track of how far you go. The sky's the limit on this challenge, so get out there and go the distance!

Choose Your Own Challenge
If the challenges above just aren't for you, why not craft your own to raise funds for those affected by COVID-19!
You can start your own 30 day plank challenge, push yourself to the limit with some push ups or take on 100 squats – the choice is yours! This virtual challenge has NO registration fee, so all you have to do is sign up and set up your very own Just Giving page for your challenge.
Pick your challenge and get started today!

Race against COVID-19
It's only £5 to enter any of these fantastic virtual challenges, with a minimum fundraising goal of £50. Once you've raised your funds and raced your heart out for those in need, you can expect to receive your victory medal in the post!
If you go above and beyond for those affected by the coronavirus, raising £250 or more, you will also receive a Penny Appeal Challenges T-shirt in addition to your shiny new victory medal.
Sign up today for one or all of these amazing virtual races and join the race against COVID-19!

COVID-19 EMERGENCY - Let's MOVE, Save Lives!
See statements below from some of our amazing participants and get your inspiration to join us in the Race Against Covid-19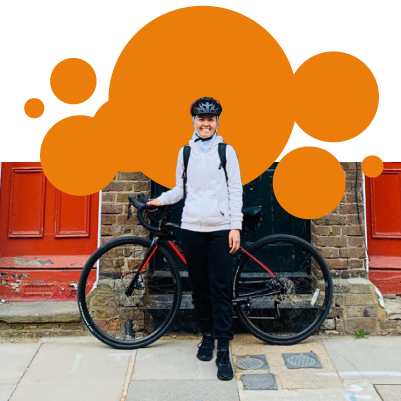 Ross Ann Valesco
"When Haroon informed me of the virtual challenge, I thought, why not? I don't stop exercising during Ramadan, so why not make my myself and the charity benefit with my cycling hours? I love taking the opportunity to help the less fortunate especially our brothers and sisters in Gaza, Syria, Yemen, and Palestine when there is. I know I am capable of helping in tiny ways and I will be questioned about it later by Allah if I rejected it. So I decided to do it for Allah's sake. I also know how difficult it is to live paycheck by paycheck and the feeling of relief when help comes. But these people are in living in worse cases. And I can only imagine the struggle their going through. I want to reach out to them by what Allah has given me"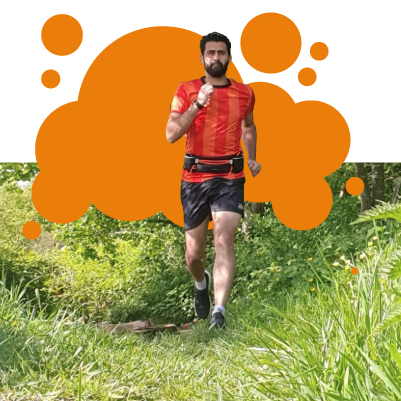 Raja Aslam
"I always wanted to achieve something above and beyond, so I had the opportunity to join Penny Appeal and run the London marathon with them. Due to the COVID-19 the date has been postponed and our mate Boris has allowed the exercise to continue. I decided I'm going to continue running and then Ramadan came upon us and Penny Appeal put some virtual challenges out there and I decided that I will run 5K everyday whilst fasting. I'm on day 20 wow I can't believe I have come this far. Whilst taking on this challenge I managed to reach my target of giving a water well to a community in Africa. Now I am exceeding this target and hoping to raise enough for 2 water wells"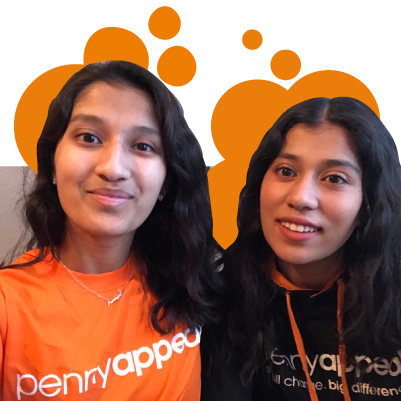 Rima & Aneesa
"While being stuck at home, we didn't feel like we were doing much so we wanted to do our part for society and what better way than taking on a virtual challenge in aid of Covid 19. We chose to dedicate our 10k challenge to our Grandads who we lost earlier this year"
STAY CONNECTED – GO FURTHER
We're asking you to use the hashtag #RaceAgainstCovid on social media, and to nominate at least 3 friends to join you for a Penny Appeal Virtual Challenge. Don't forget to tag @TeamOrangePA & @PennyAppeal on Instagram, Twitter & Facebook – we'd love to see your updates and follow your progress.
We've created ways for you stay connected and motivated online:
We're on Strava! 🍊 https://www.strava.com/clubs/teamorangepa Download the App to track your workouts and join the Team Orange club, meet other runners, cyclists & hikers. Stay connected, check the weekly leaderboard and be inspired to go further!!
Let's race together with #TeamOrange
For more information please contact our Challenges Team on 07739 363894, or challenges@pennyappeal.org