Hit the road running on Sunday 29th April and rescue some of the world's most vulnerable children with every kilometre you race! This is a shout-out to join #TeamOrange and walk, jog or run this beautiful and significantly flat 10k In the stunning Abbey Park in Leicester, in aid of our Forgotten Children appeal.
Registration Fee: £19 Minimum sponsorship: £70 (save 5 children!)
To book your place, please visit the Leicester's Big 10k website to register directly with the organisers and pay the £19 entry fee.
Once you have your place (or if you're already registered) complete our sign up form below to let us know that you're running for us.

We can support your training fundraising efforts, and cheer you all the way to the finish line! We'll keep you informed about any meet-ups and training sessions, and let you know where you can find the other #TeamOrange runners on race day.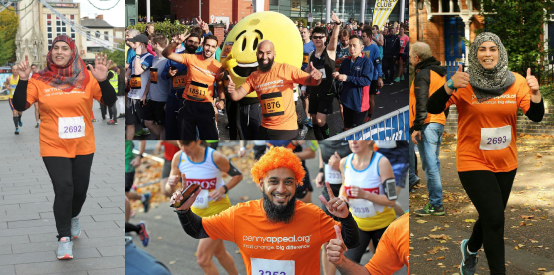 Pound the streets to raise pounds
Whether you're as fit as a fiddle or a road race rookie, this fun 10K run (just over 6 miles) is accessible to everyone.
All proceeds go to our Forgotten Children appeal, which helps vulnerable children on the streets of Pakistan, Lebanon and Bangladesh. Your support will help fund Rescue Centres and Outreach Workers on the front line of child poverty.
It only takes £14 to rescue a child from a life on the streets. We're asking all of our runners to raise a minimum of £70 to save 5 children, but we're hoping you will do even more. Raise £140 and you'll save 10 children, one for every kilometre you run! How many children will you save?
Whether online or offline, get your fundraising off to a flying start. If you're setting up a JustGiving page, be sure to join our team to keep track of #TeamOrange's progress, or download a sponsorship form to get pledges in person.
Any questions? For more information and support, contact Haroon on 07714 249215 or haroon.mota@pennyappeal.org.
View the rest of our upcoming challenges.
The Course
For more information about the route and timings, visit the Leicester's Big 10k website.