Take on a challenge with #TeamOrange on Sunday 8th July with a race renowned for its fun, friendliness and fantastic atmosphere! We're looking for participants who will walk, jog or run the Leeds 10k in aid of our Feed Our World appeal.
Registration Fee: £28 + £2 admin fee
Minimum sponsorship: £100
Every £1 you raise will provide a nutritious meal for people in over 30 crisis-hit countries. We're asking all participants to raise at least £100 before race day - how many meals could you provide?
To book your place, please click here to visit the Leeds 10k website and pay your registration fee.

One you've paid your registration fee or if you already have your place register with Penny Appeal by clicking on the box below.

We can support your training & fundraising efforts, and cheer you all the way to the finish line! We'll keep you informed about any meet-ups and training sessions, and let you know where you can find the other #TeamOrange runners on race day.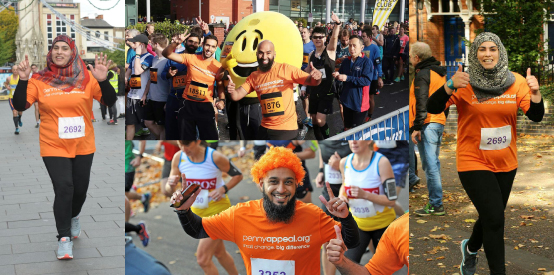 All proceeds go to our Feed our World Campaign, which provides millions of life-saving, nutritious meals to the poor and needy. These meals help combat hunger poverty in crisis-hit countries across Asia, Africa and the Middle East.
We're asking all of our runners to raise a minimum of £100 to provide 100 meals but we're hoping you will do even more. Raise £200 and you'll provide 200 meals, raise £500 and you'll fund 500 meals! How many meals will you provide?
Whether online or offline, get your fundraising off to a flying start. If you're setting up a JustGiving page, be sure to join our team page to keep track of #TeamOrange's progress, or download a sponsorship form to get pledges in person.
Any questions? For more information and support, contact Haroon on 07714 249215 or haroon.mota@pennyappeal.org.
View the rest of our upcoming challenges.
The Course
For more information about the route and timings, visit the Leeds 10k website.