Everest
***THIS EVENT IS NOW SOLD OUT. WE ARE ALREADY PLANNING OUR INTERNATIONAL TREKS FOR 2019. CLICK HERE TO EXPRESS YOUR INTEREST FOR OUR PERU TREK (October 2019) & KILIMANJARO (December 2019). Contact Haroon 07714249215 haroon.mota@pennyappeal.org for queries.***

Mount Everest. The world's highest mountain and the peak of human achievement! Penny Appeal is enlisting brave volunteers for the greatest challenge on Earth: trekking up the magnificent Mount Everest base camp for the Rohingya emergency.
Experience the most dramatic mountain landscapes in the world on this life-changing 17-day trip 17,000 feet above the Earth. You'll explore Kathmandu before trekking through some the most beautiful peaks in the Himalayas.

This 17-day journey takes place on 11–27 December 2018, with 12 days of trekking. The Everest Base Camp Challenge is an amazing trip of a lifetime, where you 'll push yourself to the very limit, make memories that will last forever and change people's lives through your own life-changing journey!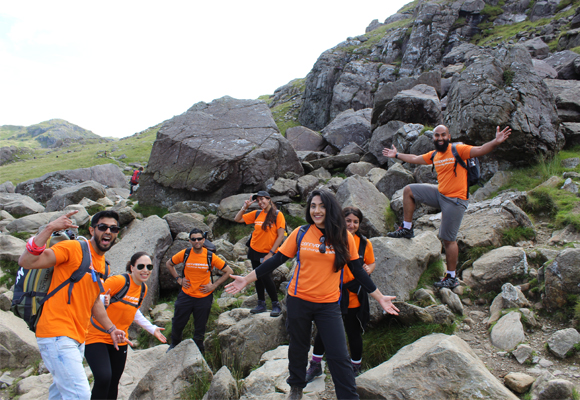 How much does it cost?
To book your place you'll need to pay a £399 non-refundable booking fee. You then need to raise a minimum sponsorship amount of £4,500 before the trip. There are loads of ways to fundraise, so make it fun, be creative and use your imagination. Our Everest Base Camp Challenge information pack includes lots of ideas to help you get started, and you'll also get comprehensive support from our fundraising team from the moment you sign up until the end of the trek

Where will my fundraising go?
The money you raise will go directly to Penny Appeal's Rohingya Emergency Appeal to help the hundreds of thousands of Muslim refugees in Balukhali refugee camp in Cox's Bazar in Bangladesh. The camp is home to 500,000 displaced refugees who desperately need food, water, shelter and medical care to survive. Your donations will provide food, clothes, hygiene and sanitation items and supplies of clean, fresh water, alongside building much-needed toilets and shelters.

Got any further questions? Take a look at our FAQS
Or alternatively contact Haroon Mota, our Fundraising & Challenge Events Manager on 07714249215 or email (haroon.mota@pennyappeal.org)