Miles for Meals: Help save lives with every step
Sunday 19th May 2019
Walk, jog or run the Great Manchester Run this Ramadan & help 'Feed our World'.
Experience a running event like no other on the streets of the undisputed capital of the North, and remember, no matter how you get to the start-line, Manchester runs together.
One person dies of starvation every 3.6 seconds.
Each year, Feed Our World provides millions of life-saving, nutritious meals to the poor and needy. By taking part in this 'Ramadan Run' you'll be providing meals to help combat hunger poverty in crisis-hit countries across Asia, Africa and the Middle East. Whilst you experience the fatigue and hunger of your own 19 hour fast, you'll earn extra rewards remembering those who suffer around world.
Every £1 you raise will provide a nutritious meal for people in over 30 crisis-hit countries. We're asking all participants to raise at least £100 before race day - how many meals could you provide?
Registration Fee: £38 (10k) £45 (half marathon) Suggested sponsorship: £100
To book your place, please visit the Great Mannchester Run website to register directly with the organisers and pay the entry fee.
Once you have your place (or if you're already registered) complete our sign up form below to let us know that you're running for us.
We can support your training & fundraising efforts, and cheer you all the way to the finish line! We'll keep you informed about any meet-ups and training sessions, and let you know where you can find the other #TeamOrange runners on race day.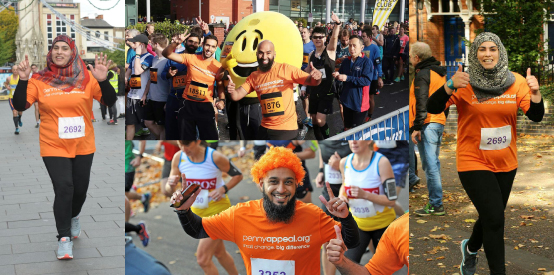 The Simplyhealth Great Manchester Run is known for its buzzing atmosphere, incredible supporters and the booming Manchester anthems that rock the city's streets.
It doesn't matter why you run, or how fast you go; everyone is a hero when they cross the line at the Simplyhealth Great Manchester Run.
Whether online or offline, get your fundraising off to a flying start. If you're setting up a JustGiving page, be sure to join our team to keep track of #TeamOrange's progress, or download a sponsorship form to get pledges in person.


Any questions? For more information and support, contact Haroon on 07714 249215 or haroon.mota@pennyappeal.org.
View the rest of our upcoming challenges.
The Course
For more information about the route and timings, visit the Manchester 10k website.