Two thirds of the Ugandan population doesn't have access to safe water – that's over 21 million people, at risk of waterborne diseases and struggling to survive.
Penny Appeal are in Uganda working to change that, with your help.
You can give the precious gift of water to a whole community in Uganda, for just £5,000 one-off or £416 a month!


Build a Well in Uganda




When you build a well in Uganda, you help prevent the spread of waterborne diseases.
This saves lives, and helps families stay healthy and strong.
Yet there's more… building a well has the power not only to save lives, but to transform them too!
On average, women and children in Africa and Asia walk 3.7 miles every day to collect water, often from dangerous and unsanitary sources, and must carry heavy loads of water, all just to fulfil their basic needs.
When you build a Well in Uganda, you are liberating these women and children.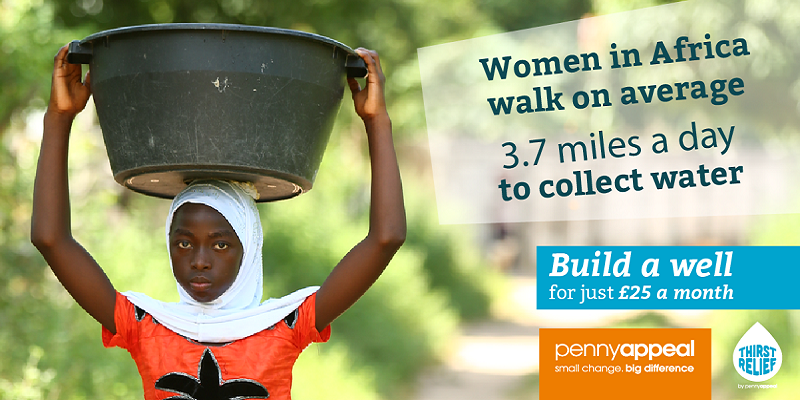 Children can go to school, crops can be watered and women can start small businesses or just take the time to enjoy life with their families!
Education, enterprise and healthier lives; all of these things can build a route out of poverty for some of the poorest communities in Uganda.
It all starts with you, deciding to build a beautiful well in Uganda which will change lives and give you ongoing rewards with every glass of water poured.

Feedback About Your Well


Once we've received the full payment for your well, we can then start to assess the best place for it to be built in Uganda, with your bespoke plaque details.
We use a stringent third-party selection process to ensure only the most in need benefit, and the whole process from start to finish after payment is an estimated 9 to 12 months.
When your well has been built and functional, we'll send you an individual feedback report so you can see it in action and find out about the people whose lives you've changed!
Your feedback report contains:
Information on the village where your well is located
Information about the community who have benefited
A message from the grateful community
Pictures of the construction and the finished well in use
A framed picture to share with friends and family
See How Your Water Donation Changes Lives
Together, we can help empower poverty-striken Ugandan communities, through the precious gift of clean water.
Build a Well in Uganda for £5,000 – that's just £13.70 a day for a year!
TELEPHONE:
0800 73 101 54
(Free to call from landlines)
03000 11 11 11
(Free from mobiles as part of
inclusive minutes package)
+44 1924 231 088
(International calls)