Say I do
Join Penny Appeal's groundbreaking mission to give 100 couples in the developing world the wedding of their dreams
We're working with our teams on the ground across Africa and Asia finding deserving couples with insufficient funds to complete half their faith

Say I do!
See Lahmin and Aya's West African traditional wedding sponsored by Penny Appeal
And guess what? We aren't just providing couples with an official marriage ceremony.
Penny Appeal planners ensure that these special days are tailored to each individual couple, to fulfil their religious obligation and create memories that will last a lifetime.
You can help us make dreams come true whilst helping break the cycle of poverty by providing:
New clothes
Furniture
House maintenance
Nutritious food
Bedding
Decoration
Wedding gifts
Grant these couples the memories to last a lifetime!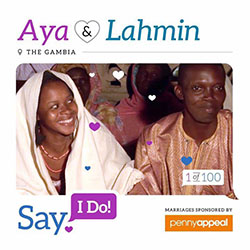 Aya and Lahmin have added a new member to the Penny Appeal family with a brand new baby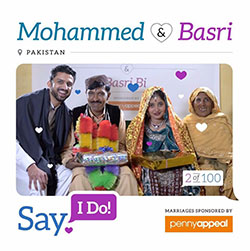 Basri grew up as an orphan before she married Mohammed.
We are so happy we could help these couples find a life partner, a successful marriage and a happy life.
Help more couples Say, I Do!