Say I do
Help a princess get her royal wedding by donating to 'Say I do'
Today is the big day and millions will be watching as Megan Markle marries her prince. However, thousands of couples across Africa and Asia are at a royal disadvantage when it comes to getting married, unable to afford the cost of even a very simple ceremony.


Bring a touch of sparkle into the lives of these soulmates by donating to our Say I Do campaign, specially designed to make the joy of a wedding a reality for couples living in poverty! Just £50 will contribute towards the cost of the ceremony and provide essential items such as food and clothing to those who long to say their vows!

Say I do!
See Lahmin and Aya's West African traditional wedding sponsored by Penny Appeal
Celebrate the Royal Wedding in style by giving the gift of a happy ever after

All eyes will be on Megan Markle as she walks down the aisle to marry her prince today. In a long awaited ceremony in the beautiful setting of Winsor castle, millions will watch the royal wedding unfold. From elaborate cakes to beautifully designed clothing, the couple's wedding is set to be mesmerising, from start to finish.


For Muslims around the world, marriage is half their faith, but so many are sadly prevented from making their sacred vows. Living in poverty, couples across Africa and Asia long to get married, but lack the money needed for a wedding ceremony.


Give royally and make marriage a reality for disadvantaged people around the world. With your kind donations, our teams ensure that these couples are able to fulfil their religious obligation by providing an official wedding ceremony. In addition to this, our special couples will also receive:
New clothes
Furniture
House maintenance
Nutritious food
Bedding
Decoration
Wedding gifts
Grant these couples the memories to last a lifetime this Royal weekend!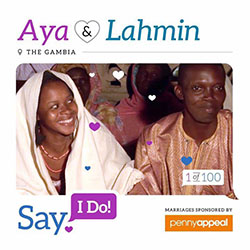 Aya and Lahmin have added a new member to the Penny Appeal family with a brand new baby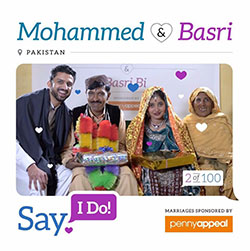 Basri grew up as an orphan before she married Mohammed.
We are so happy we could help these couples find a life partner, a successful marriage and a happy life.
Help more couples Say, I Do!