Nepal Emergency - Flood Appeal


Over 90 people have been killed and the death toll continues to rise.
Deadly monsoon rains flood several districts in Nepal, displacing over 10,000 people.

Penny Appeal are on the ground helping families, children and the elderly with emergency shelter, clean water and food.
Please donate generously to the Nepal Floods Appeal and help us act fast to protect lives.
Help Nepal Today
30 people have gone missing, at least 38 have been injured and more than 10,000 people have been displaced by the flooding across the country.
The Rautahat district has been inundated by floodwaters that accumulated after the embankment built in the area bordering India blocked their flow.
After the embankments built in the Bagmati and Lal Bakaiya rivers were demolished by a raging flood torrent just days ago, the water levels in the surrounding areas are dangerously high.
Thousands are taking refuge in community buildings used as rescue centres, and countless more have been made homeless by the floods.
You can help people stay safe and healthy in the aftermath of this terrible disaster.
Just £50 could provide a family who has lost everything with enough food for a month.
Penny Appeal's Response
Penny Appeal are on the ground in the badly affected area of Rautahat, where a shocking 80,000 households have been damaged or destroyed by the floods.
The people in Rautahat live in extreme poverty, and they cannot afford to lose what little they have – and yet, the floods have taken even that away from many.
Our teams in Rautahat met two women who told us that all of their livestock have been affected by the floodwater and that there is nothing they can do to help them.
Their livestock is their sole source of livelihood and due to the flood they have had to move into their neighbour's home.
There was no food and no clean water at their neighbour's home, and before Penny Appeal arrived, they have gone without food or water for two days.
Many other members of the community have been forced to flee to a local school as their homes have been destroyed.
They are desperate for food and water, as there is not nearly enough to go around.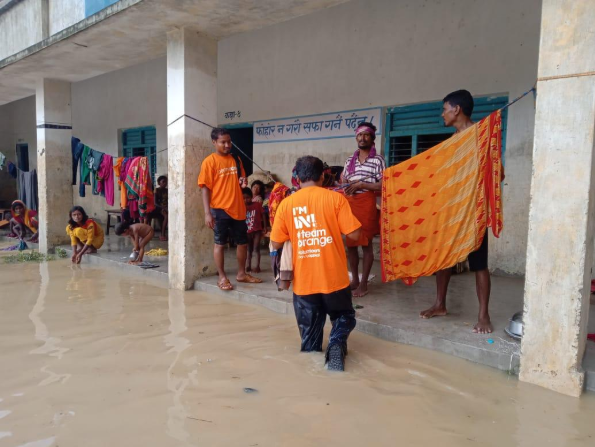 Penny Appeal have provided food packs to 250 people, containing essentials like clean bottled water, rice, lentils, biscuits, Horlicks and sugar.
We are also working on providing tarpaulin to families in need of shelter, and a longer-lasting solution to the water crisis.
Our teams are working hard to protect lives in Nepal, but we need your help.
Please give generously to help the people of Rautahat survive.