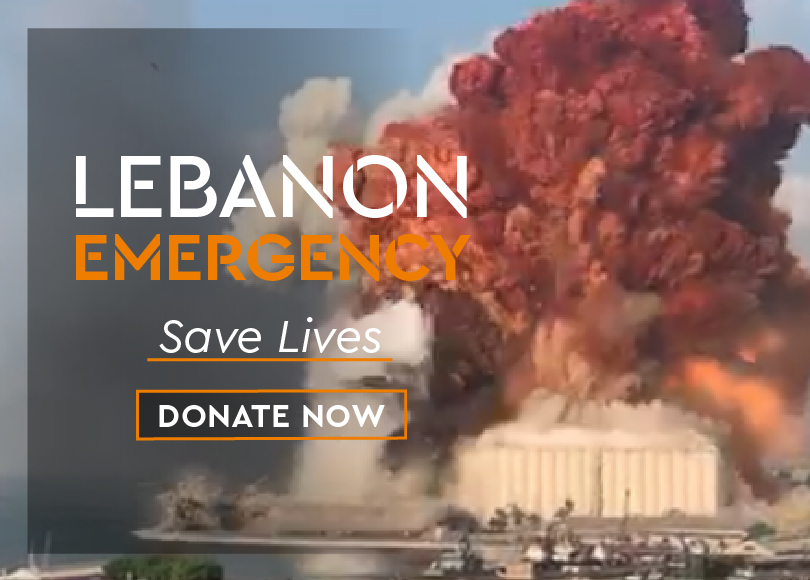 A catastrophic explosion has rocked the Lebanese capital of Beirut, leaving over 200 dead and at least 5,000 injured.
While the cause is yet to be confirmed, the country is in a state of emergency after the blast has made up to 300,000 people homeless and left a never-before-seen trail of destruction throughout the city.
Right now in Beirut, Penny Appeal is working closely with our partners on the ground to provide life-saving aid, including emergency medical assistance, food packs, hygiene kits and mattresses and blankets for those who have lost their homes.

A Country on the Brink of Collapse
In the immediate aftermath of the explosion, hospitals are overwhelmed, police are frantically searching for missing people and 300,000 people have been made homeless.
Penny Appeal's partners are responding on the ground in Beirut, providing urgent medical aid, food, blankets and essentials to those who are injured and have lost everything.
The long-term effects of this enormous blast are also a cause for alarm. With political problems brewing for the past few years, COVID-19 has put Lebanon on the brink of economic collapse this year.
The country is home to over 1.5 million Syrian refugees alone, making up almost a quarter of the country's population. The economic impact of this recent disaster is likely to push Lebanon into an unimaginable crisis, with the poorest and most vulnerable hit first.
You can make a difference today. Donate now to our Lebanon Emergency Appeal and help save lives!
"Whoever saves a life, it is as if they have saved all of humanity" (Qur'an 5:32).

Penny Appeal at The Forefront of The Global Humanitarian Response
Your Donations in Action
Penny Appeal are working through trusted partners on the ground in Beirut, supporting those injured and made homeless in the blast.
Alongside our partner INSAN, we are providing direct food assistance, medical support, hygiene and baby products, mattresses, and blankets to approximately 7,000 people who have sought sanctuary in community centres, mosques, churches, and schools in the area most affected by the catastrophic explosion.
We are also working with our long-term partner MAP to provide support to 5 hospitals in Beirut, supplying them with medical aid, burn creams and painkillers, and other types of medical kits.
Thanks to you, we are able to provide rapid aid to people who have been injured and lost everything in the blast, Alhamdulillah. But we are only just starting to comprehend the scale of this disaster, and the likelihood of economic collapse is imminent... so your donations are needed now more than ever.
Donate today and help those most vulnerable get the assistance they need.
Please note: due to the complex nature of disasters, our provisions may be changed so that we can adapt to people's most urgent needs. You can rest assured that your donations will go towards helping those affected by the blast in Beirut in the best, most efficient, ways possible. Thank you!